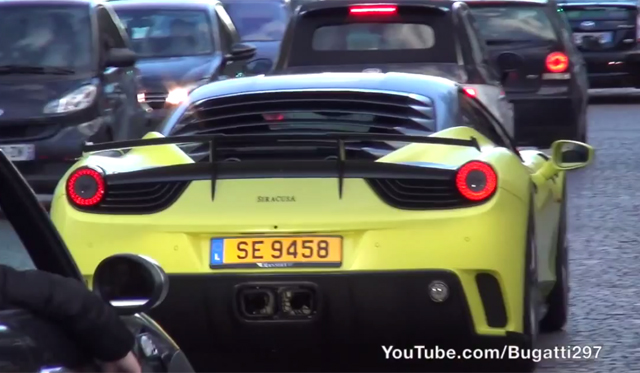 While certainly not the richest man in football, Samuel Eto'o continues to garnish attention thanks to his incredible collection of supercars. Previously, he has been spotted on multiple occasions driving his Aston Martin One-77 and V12 Zagato along with a host of other insane supercars including a Gemballa Mirage GT and the always awesome Bugatti Veyron.
[youtube]https://www.youtube.com/watch?v=kyBCWzHJ6eY[/youtube]
Now the well-paid sportsman has been spotted in his latest supercar, a fluro yellow Mansory Siracusa based on the Ferrari 458 Italia! This particular example features the same finish as the original press car and it is currently unknown if Eto'o actually owns it or if he was simply test driving or hiring it. However, considering his taste in all things exotics, we certainly wouldn't be surprised if it really did buy one of the most heavily modified Ferraris on the market.
The main eye catcher of the new Siracusa front is the striking apron with its optimised air inlets. In combination with the new bonnet it also generates additional downforce. At the sides, newly designed side skirts are added. The diffuser which is fitted into the new back skirt stabilises the rear during high velocities and in connection with the rear wing, generates contact pressure at the rear axle.
An optimised engine management sytsem, a sports air filter and a sports exhaust system improves the engine performance up to 590 hp and 560 Nm. The eight cylinder car accelerates in 3.2 seconds from 0 to 100 km/h. The top speed is 330 km/h.