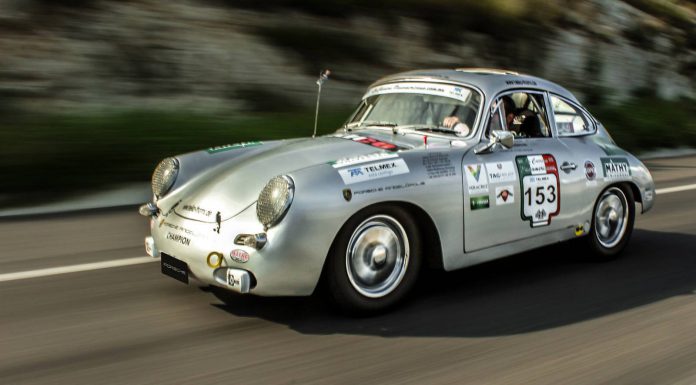 Back in the fifties one of the greatest and most complex races in the world was born. Promoted by the Mexican government as a publicity strategy for their new highway, and running across several states, the Carrera Panamericana was a challenge that demanded the very best drivers of the world to run for over 3,000 kilometers during 72 exhausting hours across said highway.
Many iconic Racing drivers dared to race by the hand of Lancia, Ferrari, Alfa Romeo, Mercedes – Benz, Porsche, Jaguar and many others. The race served both for showcasing the latest racing developments and to establish which brand was the most successful at the time. Road racing in México was such a great deal because of the inherent dangers and high risk of having a deadly accident. Carroll Shelby himself broke an arm when he crashed an Austin–Healey, and during the first years of the Carrera Panamericana, several deaths determined the destiny of this competition.
Both racers and spectators were at risk, Mexican media started some heavy complaints about such risk and how the death of the pilots was affecting the image of the sporting event and by the year of 1954 the Carrera Panamericana was celebrated for the last time. Mexican President Adolfo Ruiz Cortines had no other choice given the astonishing quantity of deaths: 27 total fatalities during five years of racing. The official announcement stated that the race had already accomplished the original goal of promoting the highway it ran across, and therefore, there was no need to keep racing.
Despite being a fleeting sporting event, it left an international legacy that some brands exploited very well, developing and testing their lightweight racecars within the toughest available conditions. Speed and security regulations had not been taken much in consideration by the time, it was common to double a safe racing speed.
Porsche exceeded what was required to win and not only did they got the first place in their category with the 550 Spyder, they proved the world how reliable their cars were. Great success accompanied Porsche, hence the "Carrera" name found in their 911 lineup, which first started with the racing engine equipped 356. As a tribute, we road tested a 1964 T6 Porsche 356C Coupé, stripped down to its roots and race prepped for the modern racing era.
Technical difficulties come in the form of a constantly varying altitude, roads that were not planned for racing, and going high speed across summits with close to no margin of error. Previous racing experience is a must have, and comes in handy when a sports set of road tires is what makes you stick to the ground and nothing more. As in its early times, the race is subdivided in different categories, but all competitors race together with a difference of 30 seconds between each other; it's important to watch out for 800 HP Studebakers overtaking you!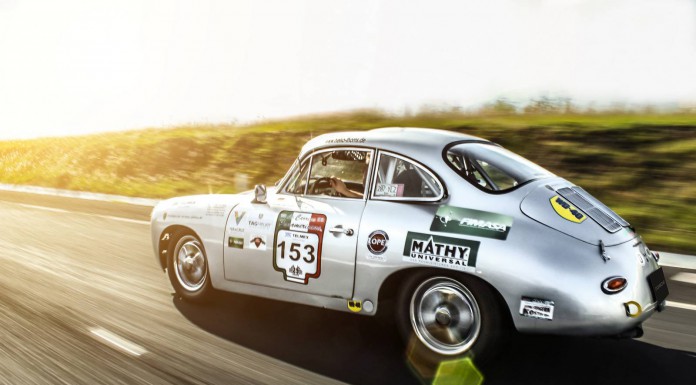 With well over 15 years of experience, Thoms Racing Team have joined motorsports in a pretty wide range, including both resistance and speed racing; that didn't stop them from sharing the passion for, as they call it, the most demanding race in the world. Being fully aware of how high the chance of not making it out alive is, their hearts beat furiously every time they race full throttle through the most intricate Mexican roads.
Having full confidence on your navigator and knowing your personal limits, as well as the car's, is key to a successful competition. Heiko Thoms explained as he got excited remembering both occasions he has piloted this Porsche across México. The hours you practice and how well you can memorize a circuit may make a difference in some kind of motorsports; but while you race La Carrera Panamericana, you have to find the best path, sort obstacles, avoid accidents and be fast all at the same time, with no previous knowledge of the roads you're in. That's the Panamericana spirit.
"The distance between staying on the road and your car flying down a 100 meter cliff is no greater than this", he says while holding his hands no more than 20 centimeters form one another.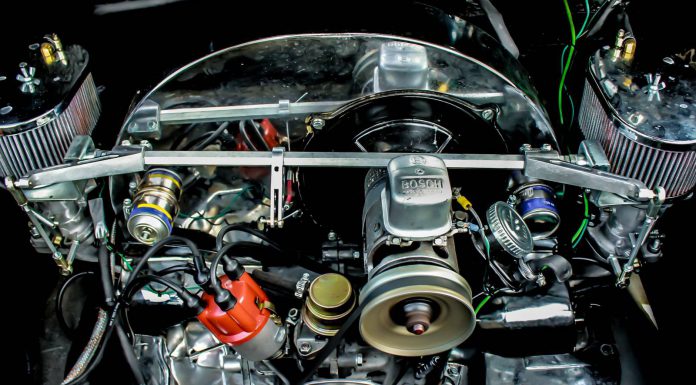 The historical combination of a rear mounted engine on a lightweight car is key for a vivid experience behind the wheel. It provides awesome grip at the rear tires and promotes late braking since there's not much weight to be stopped. Driving a car with those characteristics, however, implies having a set of skills that can't be gained anywhere else but during this race. Numerous victories have been taken by Porsche thanks to this setup and Thoms Racing Team has a simple formula to define its mindset: Porsche equals success.
The modern age race is called La Carrera Panamericana (notice the addition of the prefix) and it started in 1988 recreating the original idea through seven days of historical racing. It partially includes the original roads but the route has been slightly modified for the sake of the participants' safety. Every year it defines a different start and finish line, keeping the average distance above 3,000 kilometers and it offers gorgeous sights and unforgettable experiences for the whole crew.
This particular 356 example started life as a road car and after several months of hard work it finally became a powerful lightweight racecar. Modern regulations demand the inclusion of every safety feature a racecar should have, which represented a whole challenge by itself. The preparation process and all necessary modifications were done in México, led by its German owner.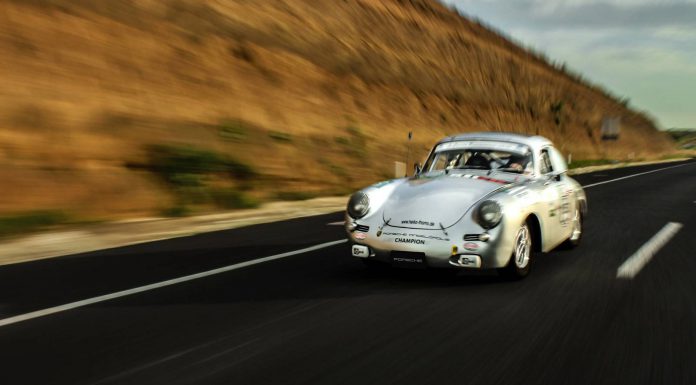 The engine is an air cooled carbureted flat four, bored to 2.0 liters of displacement, with a maximum output of just over 150 HP. Its four speed gearbox has a short gearing strong enough to endure all the beating, and capable of maintaining a fast rhythm during tight corners. Top speed barely exceeds 200 km/h because of said short gearing, but it is possible to maintain an average speed close to its top because of the car's weight of about 900 kg.
Modifications include a full roll cage, BILSTEIN suspension, disc brakes on all four corners, CIBIE fog lamps, racing carburetors, added rear stability with a S90 stabilisator, straight pipe exhaust and much more. Rear seats, carpeting, chrome bumpers and original interior parts were removed for the sake of lightness.
All cars are decorated as they should have been in the fifties, and this is no exception, little details such as the lucha libre mask you find at the back and in the keychain are representative of Porsche's history in México. A famous luchador, who then became a movie star, called El Santo used to drive a silver Porsche 356 too, and people instantly recognize this car because of it. Rich history lies behind this car.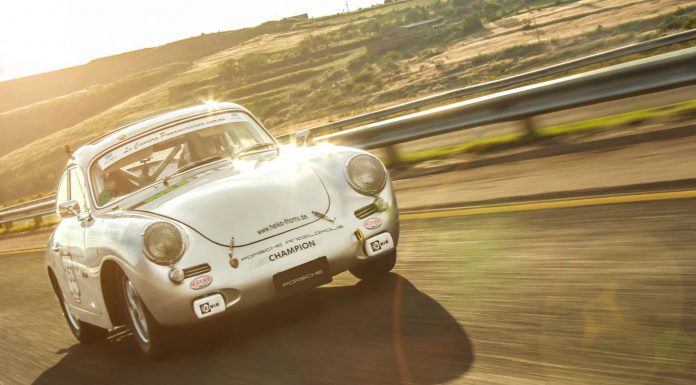 Our opportunity to shoot this car for GTspirit was given in the Atlixco highway, which connects Alixco and Puebla Cities, surrounded by the majestic views of the agricultural lands, the sunset, and the Popocatépetl volcano at the horizon. It is amazing the way this car draws attention to itself, many drivers slowed down to take a look while we were doing some rolling shots, and kids all over Atlixco city strived to get as close as possible when the car was parked at the photoshoot. We even got a few thumbs up from fellow Porsche drivers on the way back home.
Driving this amazing machine is an unforgettable experience, it is as mechanical as it gets, and being focused on racing this competition bred Porsche makes the lack of any comfort worth it. A stiff suspension, short clutch travel and unassisted steering makes it feel as a full on racecar while being completely road legal. Bearing Mexican license plates has its advantages and police are eager to help when it comes to closing down a lane for a few minutes so we could get these breathtaking shots.
The sound this car makes is amazing, nothing but the engine and exhaust can be heard inside the cabin once above 100 km/h, and there's nothing I want more than cruising as it rumbles overtaking every other car down the highway. This racecar attends every tack day, Porsche reunion, and roadshow possible as it collects a whole lot of looks and smiles by rushing down the streets; because it is sponsored by the local Porsche dealer, it even goes sometimes to the showroom amongst its younger brothers.
Life lasting memories will remain with the race competitors, as they share the magic of our culture and finally make it to the finish line after giving the best they've got to succeed. For me, it is an honor to share part of the Mexican racing history with GTspirit fans by driving an outstanding classic racer. An unforgettable experience for sure.