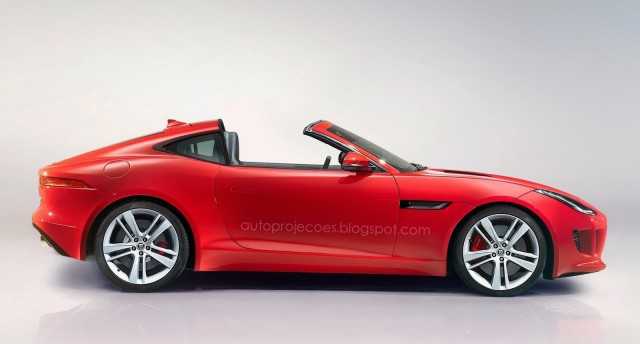 Just a few months after the Jaguar F-Type Coupe was revealed, it has emerged that a Targa variant is currently under consideration by the British automaker.
While speaking about the possibility, Jaguar's head of design Ian Callum said, "We're considering it, but it's not definite.
"The issue with the Targa is volume. If you think of Porsche, 10 per cent of its cars are Targa, 10 per cent of ours is less than theirs. You have to work out the business case but we have considered it, it's not decided yet."
If ever created, a Jaguar F-Type Targa could look similar to the car rendered above featuring a retractable roof similar to the updated 2014 Porsche 911 Targa. And unsurprisingly, if the F-Type Targa makes it to the production line, it would compete with the 911 Targa. Furthermore, if launched, a Jaguar F-Type Coupe would likely be offered with the same engines as the current range.
The most potent, the Jaguar F-Type Coupe R features a supercharged 5.0-liter V8 engine producing an insane 550 hp. It sprints from 0-100 km/h in just 4.2 seconds, 80-120 km/h in a mere 2.4 seconds and has an electronically limited top speed of 300 km/h. The V6 and V6 S models are also offered with both featuring 3.0-liter supercharged V6s. Further down the road, a four-cylinder F-Type is expected to launch.
While we'd love to see an F-Type Targa, it'd be hard pressed to look better than a Shooting Brake version!
[Via Auto Projecoes and Auto Express]