Finally! After months and months of spyshots, recent days of endless teasers and a leak, the 2015 Jaguar F-Type Coupé has been dropped and it was well worth the wait! As expected, the 2015 Jaguar F-Type Coupé is available in three different specifications, but the range-topper is not a 495 hp V8 S like the convertible, but actually the rumoured Jaguar F-Type R Coupé!
Starting with the F-Type R Coupé, it features a supercharged 5.0-liter V8 engine producing an insane 550 hp. Consequently, Jaguar promises the F-Type R Coupé can sprint from 0-100 km/h in just 4.2 seconds, 80-120 km/h in a mere 2.4 seconds and an electronically limited top speed of 300 km/h.
The supercharged engine powering the Jaguar F-Type R Coupé not only produces immense power, it also has a few nice features up its sleeve including spray-guided direction injection as well as dual independent variable cam timing. The lightweight aluminium block has then been stiffened with cast-iron liners and cross-bolted main bearing caps. Just like all other F-Type Coupé and Convertible variants, the engine is mated to a ZF Quickshift eight-speed transmission driving the rear wheels.
Other notable features include an Adaptive Dynamics system which controls vertical body movement, roll and pitch rates. This system has been designed to continually monitor driver inputs and therefore adjust damper rates up to 500 times a second to optimise stability. Working in line with this system, the F-Type R Coupé features revised spring rates increased by 4.3% at the front and 3.7% at the rear compared to the F-Type V8 S Convertible.
The Jaguar F-Type R Coupé then features a second-generation Electronic Active Differential which precisely controls the amount of driveline torque fed to each wheel. To operate, the system uses an electric motor operating a multi-plate clutch. This differential then works with the brand new torque vectoring system which works by applying controlled braking torque individually to the inner wheels when necessary to improve handling. To do this, it measures corner entry speed and determines if that speed could cause understeer. It then calculates the braking force need to correct the car's direction.
[youtube]http://www.youtube.com/watch?v=sFhgI_Sl2SQ#t=42[/youtube]
The Jaguar F-Type R Coupé also features the Jaguar Super Performance braking system which utilises 15-inch front and 14.8 inch rear discs.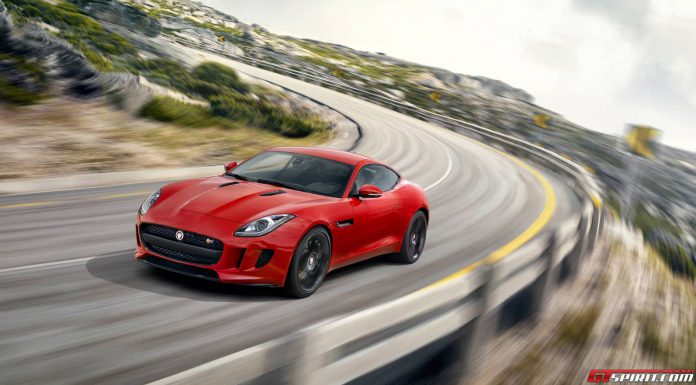 As for the regular 2015 Jaguar F-Type Coupé and S Coupé, they are essentially identical to their convertible siblings with the addition of a fixed roof. Consequently, the base Jaguar F-Type Coupé features a 3.0-liter supercharged V6 engine producing 340 hp and helping the car hit 100 km/h in just 5.3 seconds and an electronically controlled 260 km/h top speed. The F-Type S Coupé then features a tweaked variant of the same engine now delivering 380 hp and sending the car to 100 km/h in 4.9 seconds.
All three 2015 Jaguar F-Type Coupé variants are available with optional carbon ceramic matrix brakes which save 21 kg. They are finished with yellow monoblock calipers which are six-piston at the front and four-piston at the rear.