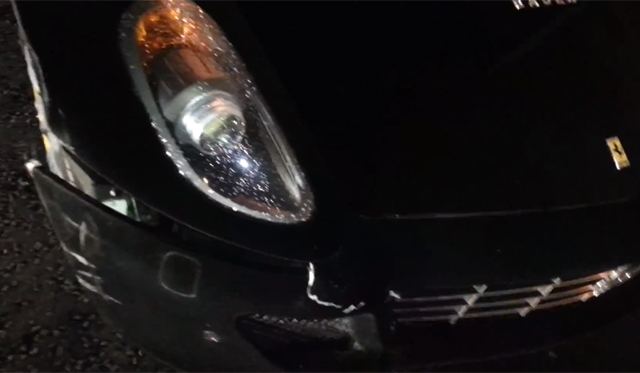 The infamous velvet black Ferrari 599 GTB which has been spotted on numerous occasions in London, England for the past 6 or so months is a real eye catcher. However, while parked on a London road, a Taxi driver accidently hit the lightweight front bumper leaving it severely damaged and the velvet mangled!
It remains unclear if the Taxi driver stopped or was able to contact the Ferrari owner, but if he did, his insurance company is unlikely to be very happy with him!
[youtube]http://www.youtube.com/watch?v=WGZYMBrtyKc#t=84[/youtube]
It almost feels like yesterday when matte finished paint jobs were the talk of the automotive town as their popularity eventually led to all sorts of car manufacturers offering the unique paint job, such as Lamborghini, BMW, Mercedes-Benz and even the likes of lower-end manufacturers like Hyundai. However, a selection of sports cars and supercars have recently surfaced wrapped in the high-end material better known for its use in furniture and clothing.
As you probably already know, the Ferrari 599 GTB was recently replaced by the even more impressive Ferrari F12 Berlinetta, but the 599 still remains an extremely impressive supercar. Featuring a 6.0-liter V12 engine coupled to either a 6-speed sequential or 6-speed manual transmission driving the rear wheels, the Ferrari 599 GTB is a true performance car. It produces 612 hp and 448 lb-ft of torque meaning the car can consequently hit 100 km/h in just 3.7 seconds and onto a top speed in excess of 205 mph.