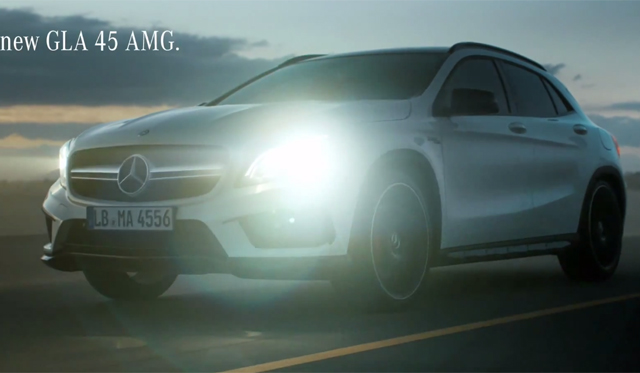 Following on from the recent promo video for the brand new Mercedes-Benz GLA 45 AMG, the official commercial for the car has been released and we must say, it is quite good!
[youtube]http://www.youtube.com/watch?v=i_3Ywl-QczY[/youtube]
Featuring the Mercedes-Benz GLA 45 AMG driving past a tiny Country Market in the middle of nowhere, the allure of the GLA 45 AMG is so strong that behind it, it is being chased by a prisoner, a bride and a dog!
As a reminder, the GLA 45 AMG does not fail to impress thanks to its tiny AMG 2.0-litre turbo engine, that delivers a more than adequate 360 hp and 331 lb-ft of torque transferred to the 4MATIC all-wheel drive system via a seven-speed AMG SPEEDSHIFT DCT transmission. Consequently, it will sprint from zero to 100 km/h in just 4.8 seconds and an electronically limited top speed of 250 km/h.
Despite such ferocious performance, it will even sip just 7.5 litres per 100 kilometres of fuel. Mercedes-Benz says the GLA 45 AMG is the third vehicle with four-cylinder turbo engine to appeal to a young target group, in addition to the A 45 and CLA 45 AMGs.
The options list, as with all Mercedes cars, is extensive and carbon fiber trim not only for the interior are available including the mirror housings. What we are most intrigued about is the optional Aerodynamics package that consists of a larger front splitter, new front canards on the bumper, rear spoiler and 'Night package'. We are sure this will make the car look even more aggressive than it already looks!