Following on from the recent delay in filming for Fast and Furious 7 after the tragic death of Paul Walker in late November last year, the crew are back preparing the latest in the long-running action film series. The latest shooting location has surprised us somewhat with filming recently being captured taking place in the heart of Abu Dhabi. This is despite the fact that Fast and Furious 7 is the following on from Tokyo Drift and consequently expected to be largely filmed there.
The following shots were captured from high up in an apartment block or hotel and show a bright red Ferrari 458 Italia performing some call driving shots for the black camera car. In many scenes, it is filmed with the police on its tail and ultimately, this video shows the car being pulled over as a sequence in the film.
While the story line for Fast and Furious 7 isn't fully known, late last year it was confirmed for a release date on April 10th, 2015. While that is still quite some time away, we can all obviously understand the necessity to delay the movie as well as filming.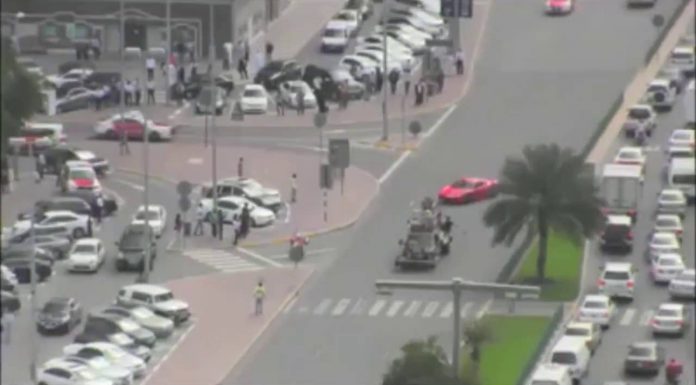 Last year, reports emerged suggesting that Justin Bieber may get a starring role in the new film. However, those rumours were quickly shot down and replaced by talk that Paul Walker's lookalike brother Cody would replace him in his remaining shots. The latest word is that Walker will be retired somehow in the film
However, we're unlikely to know for sure until the film hits the cinemas next year!