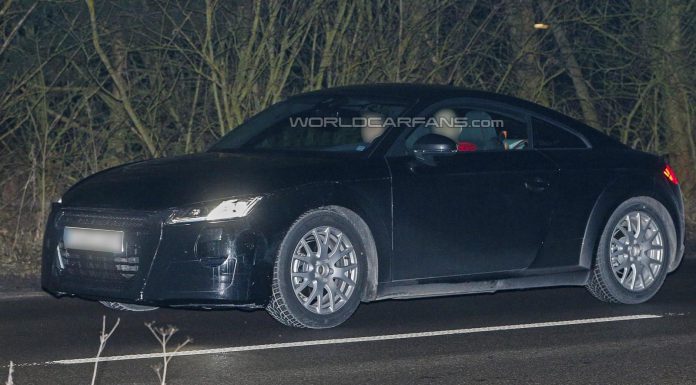 The next-generation, 2015 Audi TT has been spied testing again but this time at night and with less camouflage than previously. Additionally, the fact that the car was spied at night, we have our best glimpse at the newly designed headlights and taillights in action.
Immediately, the similarities between these headlights on those that debuted on the recent Audi Allroad Shooting Brake Concept are evident. They are much thinner and more angular with sharper lines than those of the current Audi TT sports car. And if you follow the link below, you'll find a similar story for the taillights.
Recently, it was confirmed that the 2015 Audi TT will debut at next month's Geneva Motor Show 2014.
While we still await official images of the exterior of the all-new TT, we do at least know what the cabin looks like. Without doubt, the most dramatic change differentiating the new TT from all previous generations and all other Audis, is its massive 12.3-inch TFT screen which replaces all gauges as well as the normal monitor on the dash. As you would imagine, this massive display offers a host of different viewing options with a traditional display showing a large speedometer and rev counter available. Additionally, you can switch it to other modes which include the infotainment functions as well as 3D navigation.
Under the hood, we expect to see a selection of different engines options just like the outgoing model. These could include an entry-level 1.8-liter TFSI powertrain delivering 180 hp, a 2.0-liter TFSI pumping out 220 hp and up to 300 hp in top-spec. Finally, a new Audi TT-RS is likely to appear down the line with an uprated five-cylinder turbocharged engine producing around 380 hp.
[Via World Car Fans]