The second round of the 2014 FIA ERC took place this past weekend in Latvia. Rally Liepaja took place in the presence of heavy snow showers! This did not detract from the fun as the action was invigorating both to the fans and the drivers. 20 year old Vasily Gryazin was the lucky driver finishing second but was awarded with the Colin McRae ERC Flat Out Trophy.
Gryazin led for two stages and also maintained a top spot in other stages, the eventual rally winner, Esapekka Lappi gave him the best of competition during all stages. Gryazin's luck came after he opted to run 17th on the road as the last of the priority drivers at the start selection ceremony. This saw him gain an advantage over his rivals. The Colin McRae ERC Flat Out Trophy is presented to the driver whose performance best embodies the spirit Colin McRae.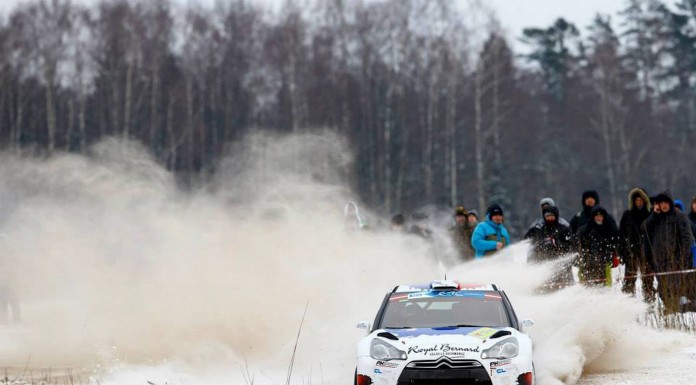 At the end of this round, Lappi led the lot in his Skoda Fabia S2000 with Gryazin coming second in his Ford Fiesta S2000. Craig Breen closed the podium finishes in the RC2 class after coming third in his Peugeot 207 S2000. Jan Černý led in the junior contenders in his Peugeot 208 R2, he managed to finish ahead of several experienced drivers in the RC2 class. Meanwhile, Glamour model Inessa Tushkanova took the ERC Ladies' Trophy home!
Next up is the Acropolis Rally in Greece which will take place on March 28th!