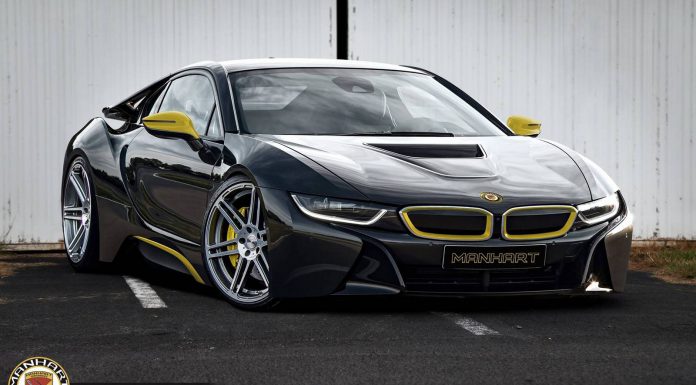 Our friends at Manhart Racing recently revealed their proposed package for the BMW i8. It follows a similar rendering released by Lumma Design. Of course, owners haven't yet received their cars so the renders are pure speculation until then.
Manhart Racing's proposals are coloured black with green accents. The car sits lower and on a set of Manhart Racing wheels. The design doesn't gain anything further so the changes are limited to just the colour, wheels and lowering.
We're sure that Manhart Racing have something planned for the mechanicals of the car too. The drive system utilises a brand new three-cylinder petrol engine with BMW TwinPower Turbo technology. From 1.5 litres, the i8 manages an output of 231 hp, a maximum torque of 320 Nm and rear wheel drive. Power is sent to the rear wheels via a six-speed automatic gearbox. The petrol engine is supplemented by an electric motor with an output of 131 hp and maximum torque of 250 Nm. The power from this lithium-ion high-voltage battery is channelled through the front wheels via a two-stage automatic transmission.
The combinations mean that the BMW i8 is able to produce 362 hp maximum power and 570 Nm of torque. Performance is 0 to 100 km/h in 4.4 seconds with both engine and electric motor engaged. The BMW i8 manages economy figures of 2.5 litres per 100 km or 113 mpg in imperial measurements.