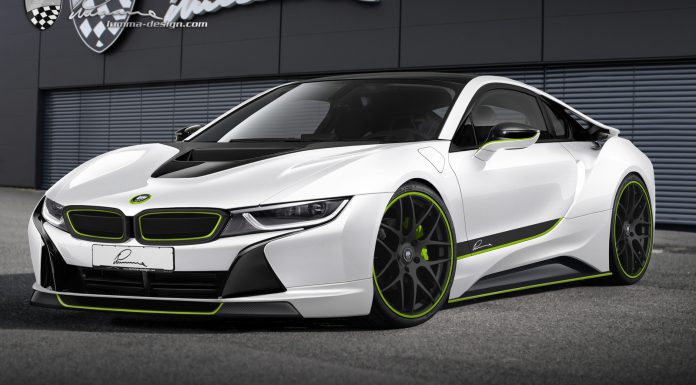 Lumma Design has just released a preview rendering showcasing its planned Lumma CLR i8 based on the standard BMW i8 hybrid sports car. While the tuner has yet to actually get their hands on a BMW i8 to begin work, the car you see above looks extremely impressive with a host of custom features courtesy of Lumma Design.
More specifically, the planned BMW i8 CLR by Lumma Design features a host of carbon fiber components including the front splitter, side skirts and rear bumper and diffuser. Additionally, it features a modified front bumper, and hood with a prominent blacked out power dome. Other visual changes include a black roof, black and white wing mirror caps as well as new wheels.
Whereas the standard BMW i8 features black accents, the BMW i8 CLR by Lumma Design features fluro green accents and brake calipers and consequently catches your eye even more than the standard car!
Because the car has yet to be revealed, we can't say if it would feature any performance modifications but it likely wouldn't. Consequently, it would feature the same aluminium Drive module incorporating a traditional internal combustion engine, two electric motors, a battery as well as all the electronics as the standard car. That traditional engine is a mid-mounted 1.5-liter turbocharged three-cylinder powertrain pumping out an impressive 231 hp and 236 lb-ft of torque at the rear wheels.
However, BMW wasn't entirely satisfied with those figures and also fitted an electric motor up front which on its own produces 131 hp and 184 lb-ft of instantly available torque. As a result, the BMW i8 produces a total of 362 hp and 420 lb-ft of torque and is good for a sprint from 0-100 km/h in just 4.5 seconds and an electronically limited top speed of 155 mph.