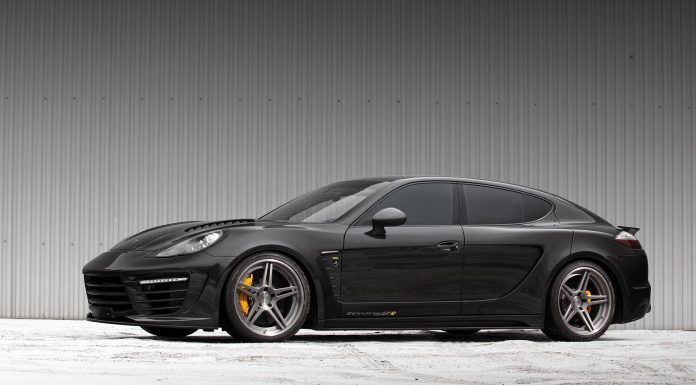 Not too long ago, TopCar released their brand new Stingray GTR upgrade for the 2014 Porsche Panamera. Now the Russian tuner have released a special edition of the Stingray GTR with a unique crocodile interior!
The most dramatic change found on the 2014 Porsche Panamera Stingray GTR by TopCar is the all-new aerodynamic kit. This new aero kit consists of a brand new front fascia incorporating a new front bumper, splitter as well as a new air intake and front grille design. Next, the 2014 Panamera Stingray features a carbon fiber hood with some functional air intakes.
Moving to the side, the Panamera Stingray GTR by TopCar features a brand new set of side skirts as well as carbon fiber vents behind the front wheels. The car is then rolling on a set of eye-catching ADV.1 forged wheels. Finally, the Porsche Panamera Stingray GTR by TopCar features a new rear fascia incorporating a new carbon fiber diffuser, rear bumper as well as an impressive carbon fiber rear wing.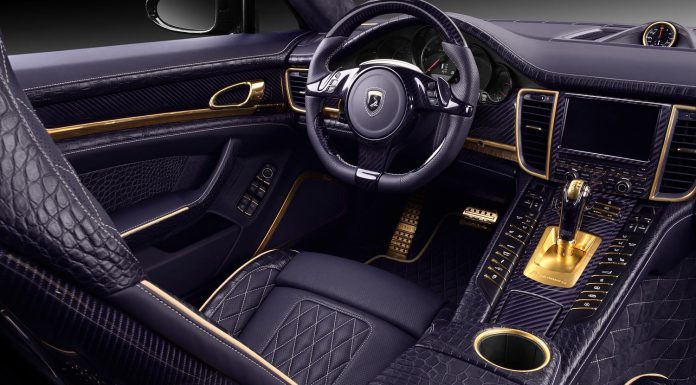 As for the unique interior of this Panamera Stingray GTR by TopCar, crocodile leather can be found on the door sills, seats, centre console and on the dashboard. Additionally, the new interior features real gold plated parts including pedals and door handles. Completing the upgrades are a selection of new carbon fiber components!