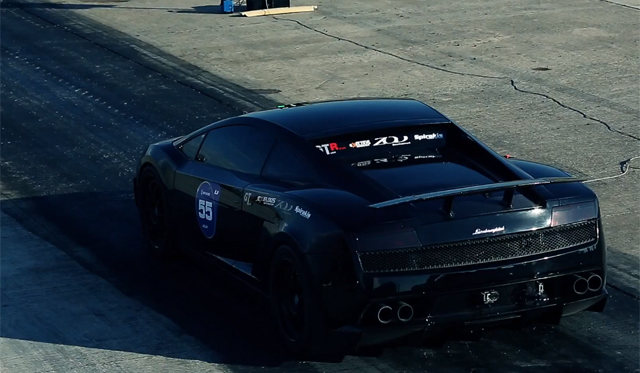 America has the Texas Mile and Russia has the Unlim 500+ drag racing event. Held frequently, Unlim 500+ brings together Europe's and the world's fastest street legal cars for epic sprints down the standing mile.
Earlier this year, we brought you the news that an AMS Alpha 12+ Nissan GT-R had set a new world record at the event completing the standing mile in just 22.538 seconds at a top speed of 382 km/h. After that record was set, two of the key players at Unlim 500+ made a bet to see who could achieve a sub-22 second sprint across the mile first for a $25,000 prize.
[youtube]http://www.youtube.com/watch?v=wPbj19mJ02Q[/youtube]
That time ended up being too easy to beat and was achieved that very same day. The stakes were then raised to a sub-21 second standing mile sprint by the end of the year with the first to achieve it being awarded $100,000. The weapon chosen to achieve that time was this 2005 hp Lamborghini Gallardo LP570-4 Superleggera. However, on a record attempt, the connecting rode smashed its way through the engine block and the car caught fire crossing the line at 402 km/h.
Fast forward to the start of November and the clock was ticking as the end of the year approached. With a brand new Lamborghini Gallardo Nera prepped and ready to go and delivering 1850 hp at the flywheel and 1575 hp at the wheels, the record was in sight.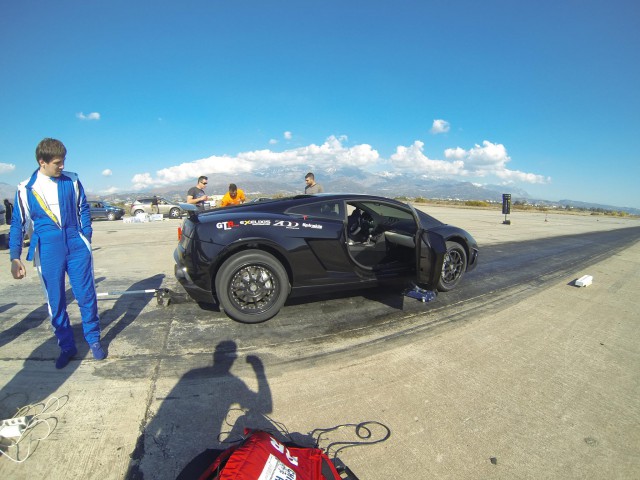 On the 22nd of December and at a special Unlim 500+ event held in Greece, the Gallardo Nera hit the track running 2.9 bar of boost. All four tyres were pre-heated and the track was prepped for maximum grip. The run went perfectly and the results are simply mind blowing; a quarter mile sprint of 8.814 seconds at a top speed of 289 km/h. The mile mark came less than 12 seconds later as the heavily modified twin-turbo Gallardo, crossed the line in just 20.845 seconds at a top speed of 409.55 km/h!
Who knows, maybe next year we will see some Unlim 500+ competitors entering the 19-second club!