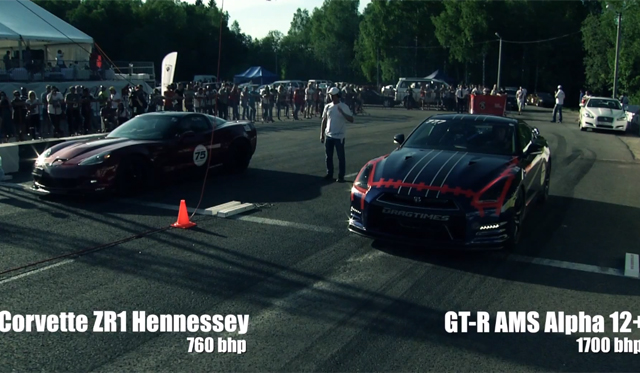 Remember the video of a 1700hp Nissan GT-R Alpha 12 tuned by AMS Performance we brought you a couple of months ago? In that clip, the insanely-powerful Japanese supercar managed to hit a top speed of 374.60km/h in just a standing mile. Fast forward to a few days ago, and that same Nissan GT-R recently topped that record reaching a top speed of 382km/h in one mile!
Additionally, the 1700hp Nissan GT-R Alpha 12 by AMS Performance managed to reach 300km/h in just 12.37 seconds, making it around half a second faster than the car achieved a few months ago. However, that's not the most impressive fact. The most impressive fact is that such a time means this Nissan GT-R Alpha 12 by AMS Performance is significantly faster to 300km/h than the Bugatti Veyron Super Sport, Hennessey Venom GT and Koenigsegg Agera R.
The following video released by DragTimesInfo chronicles the world record setting run and the most impressive thing about this Nissan GT-R is that it's street legal and far from being a completely stripped out, and excessive drag racer built specifically to shatter 1 mile record runs. The following clip includes races against a 1100hp Porsche 911 and a 760 Chevrolet Corvette ZR1 and as you'd expect, the Nissan GT-R demolishes both of them!