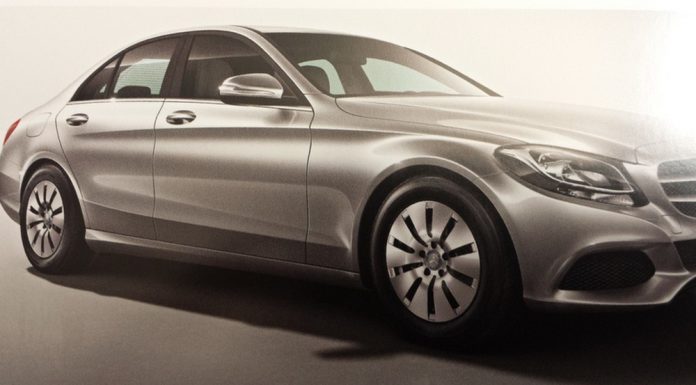 New leaked images of the 2015 Mercedes-Benz C-Class have emerged as well as Mercedes-Benz releasing an exciting video with seven time Formula One World Champion Michael Schumacher behind the wheel.
Starting with the new leaked images, they appear to be snatched from the official photoshoot of the new car somehow and confirm that this undisguised prototype was indeed the facelifted C-Class. From a visual standpoint, the new car looks like a smaller version of the range-topping S-Class with almost identical taillights and a similar front fascia. Additionally, one image even shows the new C-Class carrying a bike rack!
For the video with Michael Schumacher, Mercedes-Benz pays close attention to the Intelligent Drive systems. Some of the key element making up the Intelligent Drive system are a crash prevention system, autonomous Steering Assist, advanced cruise control, lane keeping assist and blind spot monitoring. Thankfully, if the driver wants to stay in control they can do so by disabling such features.
[youtube]http://www.youtube.com/watch?v=aHmvrX5a0Ec#t=92[/youtube]
Recently, reports emerged suggesting that the 2015 Mercedes-Benz C-Class will debut on December 16th before its worldwide public debut at the Detroit Auto Show 2014 in January. Kicking off the range will be a 168 hp C220 BlueTEC diesel offered in Germany alongside a 154 hp C180 and a 182 hp C220. Further down the line, numerous other engines will be offered.
Additionally, the 2015 Mercedes-Benz C-Class will be available as a sedan, wagon, coupe and convertible. Of most interest to us however, is the next-generation Mercedes-Benz C63 AMG. Considering that the next-generation C63 AMG will be competing with both the 2014 BMW M3 and M4, it will likely will be available in a host of variants including convertible, coupe, sedan and possibly even wagon form.