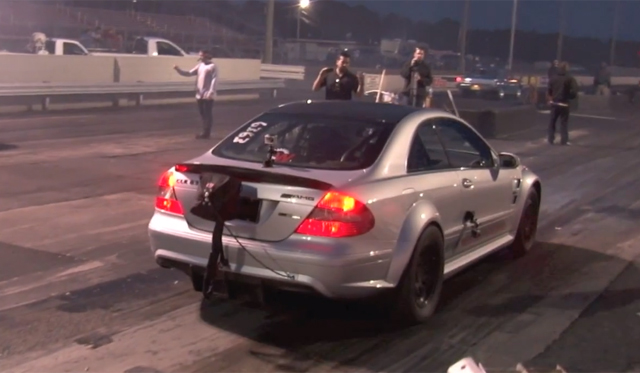 The Mercedes-Benz CLK 63 AMG Black Series is arguably the most insane Black Series model ever offered by Mercedes-Benz. While it isn't anywhere near as fast as the SLS AMG Black, it loves nothing more than sliding around corners in a mountain pass.
[youtube]http://www.youtube.com/watch?v=Mr-6Yl3PfSo#t=177[/youtube]
Along with the thrills the CLK 63 AMG Black can provide around the turns, it is also quite potent in a straight line and can hit 100 km/h in just 4.3 seconds and continue onto a top speed of 187 mph. However, how much faster can a CLK 63 AMG Black Series become when fitted with a massive supercharger kicking horsepower up to 1000 hp?
Well, as the following video shows, this Mercedes-Benz CLK 63 AMG Black Series courtesy of Weistec Engineering recently ran a 9.757 second quarter mile at a top speed of 151.95 mph!