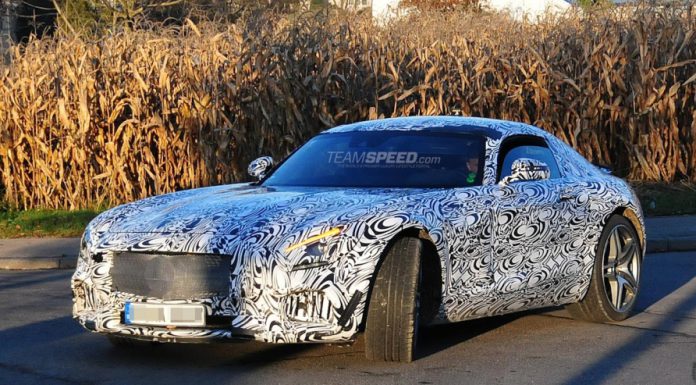 The upcoming 2016 Mercedes-Benz GT has been spied up close for the very first time with this prototype the most revealing to date.
When looking at the above photo, it is immediately apparent that this Mercedes-Benz GT prototype features brand new headlights with a new design for the indicators.
The most potent example of the 2016 Mercedes-Benz GT is expected to feature a brand new 4.0-liter V8 engine with two turbochargers and producing an impressive 493 hp. This engine is then set to be shared for the upcoming next-generation Mercedes-Benz C63 AMG also due out soon.
While peak horsepower of the Mercedes-Benz GT is down on the car it replaces, torque is said to remain around the same and thanks to the twin-turbocharges, peak torque should arrive below 2000 rpm. By comparison, peak torque on the SLS AMG is found at 4750 rpm.
Mated to this new engine is predicted to be a seven-speed dual-clutch automatic gearbox mounted with the rear axle assembly. Consequently, the GT is said to receive a 48-52 front-to-rear weight distribution. Thanks to the new supercars lightweight construction, the Mercedes-Benz GT could weight around 1550 kg, which is 145 kg less than the SLS AMG.
According to reports, the 2016 Mercedes-Benz GT could debut at next year's Formula One German Grand Prix before going on sale in 2015.
[Via Teamspeed]