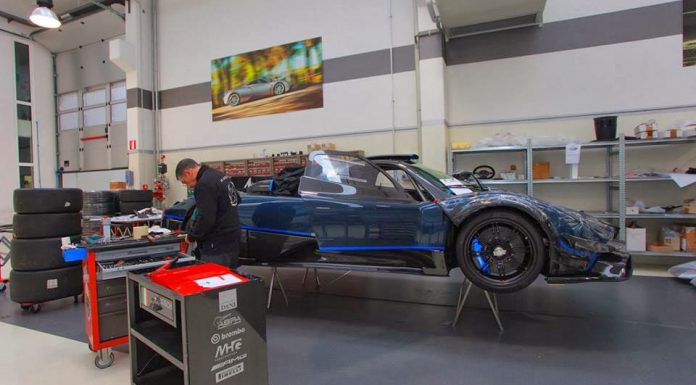 While the awesome Pagani Huayra has been in production for more than a year, Pagani is continuing to create very special variants of the awesome Pagani Zonda. The most recent and most extreme Zonda ever produced has to be the Pagani Zonda Revolucion revealed earlier this year.
Produced as a track-only vehicle, the Pagani Zonda Revolucion represents the pinnacle of the Zonda R program and drastically improves on the regular Zonda R which has lapped the Nurburgring in an amazing 6 minutes and 47 seconds.
Originally revealed in black with some orange, white and red racing stripes, a new Pagani Zonda Revolucion is currently being brought to life in Pagani's Italian factory. Making this Zonda Revolucion unique is its blue carbon fiber bodywork accented with bright blue calipers, pinstripes and traditional bare carbon fiber parts.
Technically speaking, this eye-catching Zonda Revolucion will remain identical to the regular car. That means a 6.0-liter V12 engine that now develops an output of 800 hp and 730 Nm of torque. The carbon-titanium monocoque helps bring total weight to 1,070 kg. The result is an impressive power to weight ratio of 748 hp per tonne.
Power is transferred through a 6-speed magnesium transversal and sequential gearbox. Gear changes are instantaneous with shift times reduced to 20 ms. Bosch have helped develop a state of the art traction control system with 12 different settings. The ABS system has also been revisited.