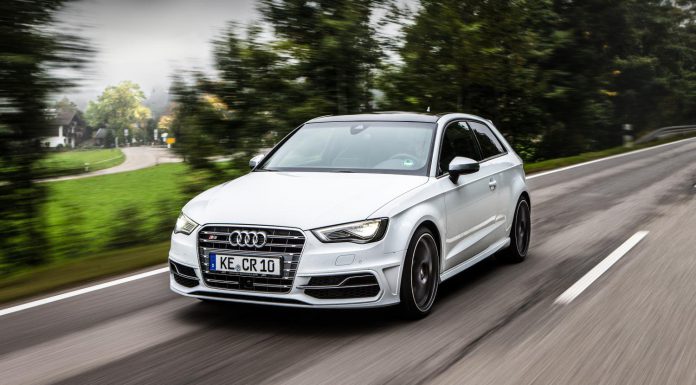 The Audi S3 is good at everything it does. It's an incredible all-rounder that addresses every aspect you could think of with ease, grace and potency. The four-cylinder unit delivers a constant 380 Nm of torque to the crankshaft between 1,800 and 5,500 rpm. Rated power at 5,500 rpm is 300 hp and the engine redlines at 6,800 rpm. The sprint from zero to 100 km/h is completed in 5.1 seconds when equipped with the S tronic (5.4 seconds with the manual transmission). The electronically governed top speed of 250 km/h is just a formality.
This performance is certainly adequate. But what if you want more? ABT are the tuners you need! The company are no strangers when it come to making fast Audi's even faster. Their R8 package is spectacular and add piles or power and aggression to the phenomenal sports car. So what have they done with the little S3 hatchback?
Well the German tuners have only tinkered with the engine, the bespoke engine control unit has been used and the results are rather effective, with the 2-litre turbo petrol's outputs rising to 370 hp and 460 Nm, putting it slightly ahead of the brutal Mercedes-Benz A45 AMG in terms of power. Acceleration is strong, part due to the very grippy all-wheel-drive system and ABT claims that its creation will match the AMG's 0-100 km/h sprint time of 4.6 seconds, and reach a top speed of 265 km/h.
In terms of visuals, this S3 is fitted with ABT's own ER-C black double-spoke alloy wheels, which can be ordered with a diameter of 18-, 19- or 20-inches, and suitable high-speed rubber.