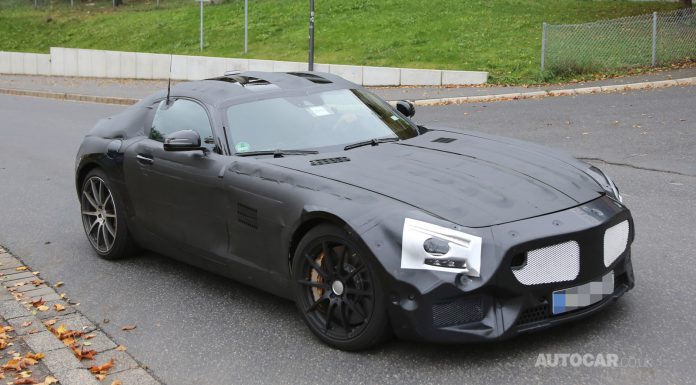 The replacement for the Mercedes-Benz SLS AMG, currently known as the 2016 Mercedes-Benz GT, was recently spied testing under heavy camouflage.
Rather than being a true successor to the SLS AMG, the Mercedes-Benz GT will be smaller and more affordable and will consequently, aim at becoming a true world-class rival to the almost untouchable Porsche 911.
In order for the 2016 Mercedes-Benz GT to truly compete with the Porsche 911 line-up, a selection of variants will be offered with the base model to feature a 485hp engine and a price tag of around 109,000 euros. Mercedes-Benz will then offer a 2016 Mercedes-Benz GT S variant featuring 550hp predicted to cost around 145,000 euros. Topping out the 2016 Mercedes-Benz GT range will be an eventual Black Series variant with around 585hp.
As it stands, it's extremely difficult to predict how the upcoming 2016 Mercedes-Benz GT will look but based on the above spy shot, it could feature a similar shape to the Mercedes-Benz SLS AMG albeit on a smaller scale. However, in order for the car to compete with the Porsche 911, Mercedes-Benz may have to move to a mid-engined layout while maintaining the SLS AMG's current rear-wheel drive system. If eventual variants of the Mercedes-Benz GT aim to compete with all-wheel drive 911s, the car could utilise a custom version of the brand's 4MATIC system.
[Via Autocar]