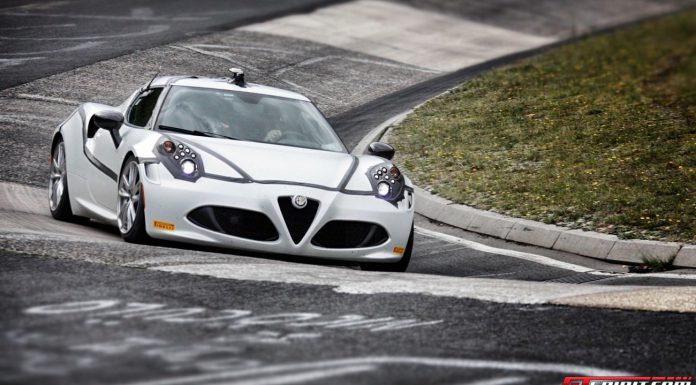 Following on from the recent announcement that the Alfa Romeo 4C managed to lap the Nurburgring in just 8 minutes and 4 seconds, a new video has been released showing some of the highlights from the record-setting run.
While that may seem slow compared to the Porsche 918 Spyder's record-setting 6:57 lap time, don't forget that the Alfa Romeo 4C 'only' produces 240hp!
[youtube]http://www.youtube.com/watch?v=xWznFj1GQQg#t=55[/youtube]
Most importantly, an 8 minute and 4 second laptime puts the 4C ahead of some much more expensive sports cars. By comparison the Aston Martin DBS can lap the circuit in 8:02, the BMW E92 M3 in 8:05, the BMW Z4 M Coupe in 8:12 and most importantly, the Porsche Boxster S in 8:10. That final time is the most important as the Alfa Romeo 4C is a true competitor for the Porsche Boxster S and Cayman S.
As a refresher, the Alfa Romeo 4C features a 1.75-liter four-cylinder turbocharged engine delivering 241hp at 6,000rpm and 350Nm of torque at 2,100rpm-3,750rpm. While such a powertrain doesn't sound all that impressive, the 895kg dry weight of the Alfa Romeo 4C will make it sprint to 62mph in just 4.5 seconds, which is four-tenths quicker than a Porsche Cayman S equipped with the expensive PDK transmission! Expect the U.S.-spec car to accelerate slightly slower as it weighs 100kg more.