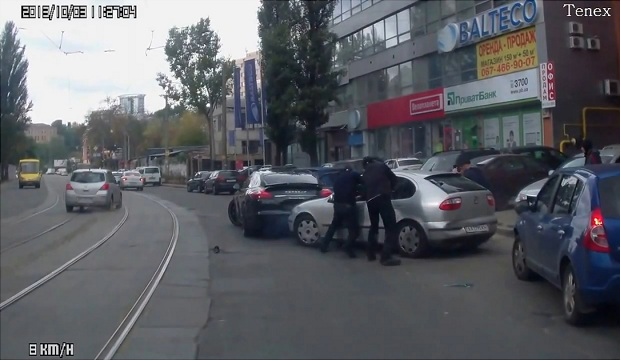 Ukraine, a road user is driving through Kiev and is met with a scene that looks as if it has been taken straight from a mobster movie. As with most drivers in Eastern Europe who fear hit and run incidents, the innocent witness had a dashcam fitted which produced this terrifying footage. The silver LEON is parked on the side of the street and a blue VW is parked close by, it later appeared that this car was part of the attempted heist as it was in place to block the LEON.
[youtube]http://youtu.be/F5bxEDkw63Y?t=1m40s[/youtube]
The Porsche Panamera pulls up and men, dressed in black, burst out armed with sledgehammers, pistols and an AK47. As the footage will reveal the entire experience must have been terrifying for the Seat driver who managed to maneuver his way out of the harrowing situation, smashing both cars in the process. Police are still trying to piece together the story but have remarkably confirmed that no one was injured in the attack. Leon Driver 1, Mobsters 0!
The Panamera's looks are debatable but the car is very stable at speed and larger engined models such as the Turbo S pack some serious pace! A fitting mob car. What do you think the ultimate mob car is? We would rather like a Panamera GrandGT by TechArt!
[Via: http://ca.autoblog.com/2013/10/07/robbery-car-jacking-road-rage-gangster-hit-ukraine-russian-dashcam-video-seat-panamera-ak47/]