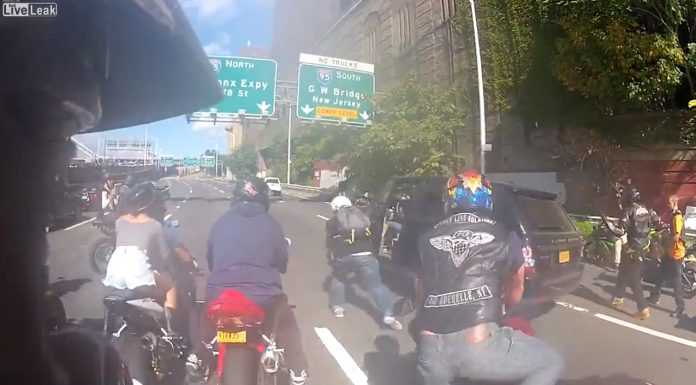 Yesterday we reported an incident that occurred in New York over the weekend involving a bike gang and a Range Rover Sport. The entire event was captured on video and now multiple sources are reporting that the biker we saw who caused the original accident, 28 year old Christopher Cruz, has been arrested. Cruz is set to be charged with menacing, reckless endangerment and endangering the welfare of a child.
The identity of the Range Rover Sport driver has been confirmed as 33 year old Alexian Lien who was travelling with his wife Rosalyn Ng, and their 2-year-old daughter. Its thought that around 30 bikers followed the Range Rover following the incident. The event, an annual ride from Brooklyn to Times Square known as Hollywood Block Party, had been organised by a man known as Hollywood Stuntz. Police had been monitoring the event and arrested 15 bikers, confiscated 55 motorcycles and issued 68 summonses.
It is being reported that one of the bikers, 32 year old Edwin Mieses was taken to hospital following the incident. He is currently in a critical condition, having sustained broken legs. Doctors have placed Mieses in a medically-induced coma at St. Luke's-Roosevelt Hospital. There is some suggestion he could have been paralysed by the accident.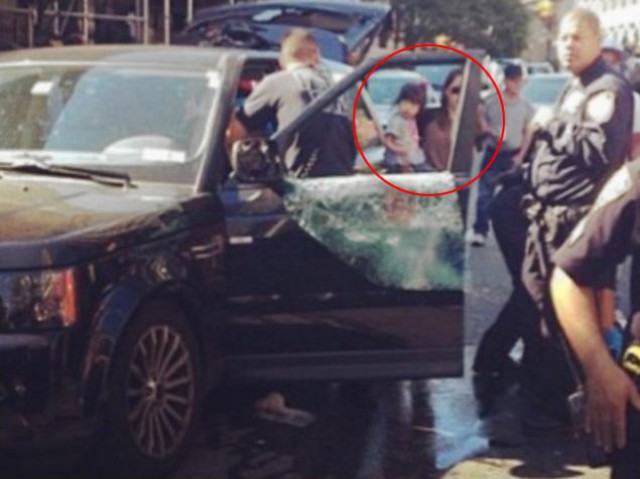 The driver of the Range Rover Sport, Alexander Lien sustained knife wounds to his face. He was admitted to hospital for treatment. He received stitches before being discharged. Police are still searching for the two bikers who carried out the attack. Lien was not expected to be charged, but the police department is still investigating the incident.
Almost all of the bikers involved had their numberplates removed. Many were not even registered for the road or even road-legal. The videos below show that on past events, and on this weekend's event, violence had broken out. Sources suggest that last year an incident occurred between a bus and a rider when the rider smashed the rear window with a crowbar. The video below shows those involved riding on the pavements and even attacking a Prius driver. Seems as though the whole event was an accident waiting to happen…
The videos below show similar events organised in the same area (probably by the same person):
[youtube]http://youtu.be/0ujSkztMRrs[/youtube]
[youtube]http://www.youtube.com/watch?v=wm2nnAmCZOM[/youtube]
Videos from this years event:
[youtube]http://youtu.be/jNBAilAMOhQ[/youtube]
[youtube]http://youtu.be/jYCl5HUhPgI[/youtube]
[youtube]http://www.youtube.com/watch?v=Z5PXXB6VLJM&feature=share&list=UUL_XeK5jT2MdAwgck1rX2Sg[/youtube]
[youtube]http://www.youtube.com/watch?v=wrYJoyupDXk&feature=share&list=UUL_XeK5jT2MdAwgck1rX2Sg[/youtube]
[youtube]http://www.youtube.com/watch?v=bnYHG8Tu8ys&feature=share&list=UUL_XeK5jT2MdAwgck1rX2Sg[/youtube]
[Via NYDailyNews]