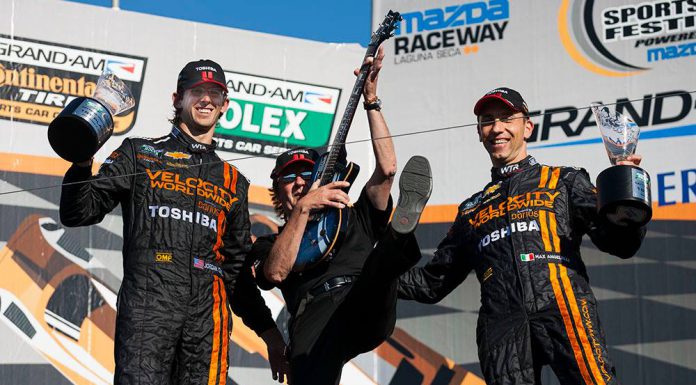 It was deja vu for Max Angelelli and Jordan Taylor after winning Sunday's Continental Tire Sports Car Festival, powered by Mazda at the Mazda Raceway Laguna Seca. The duo had won the previous Grand-Am race at Kansas Speedway in their Daytona Prototype car and they are now 8 points ahead of the defending champions Scott Pruett and Memo Rojas (304 vs. 296)
They led 72 of the 105 laps in the two-hour, 45-minute race in their No. 10 Velocity Worldwide/Toshiba Corvette DP. Taylor remarked; "I definitely was under a lot more pressure at Kansas. Today we had a better car and we could control it from the front."
Defending champion Pruett, co-driving the No. 01 Telcel/TELMEX BMW/Riley with Memo Rojas said; "It's close coming down to Lime Rock. The No. 10 car has a little breathing room, but hopefully we can turn around our luck at Lime Rock and have a good finish."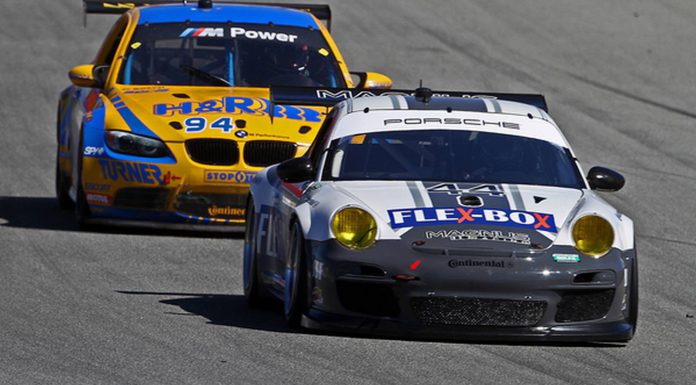 Third place in the podium in the DP class went to the No.2 Chip Ganassi Racing with Felix Sabates. As for the GT class, first place went to Magnus Racing in their Porsche 911 GT3, second in this class was Turner Motorsports BMW M3 while Marsh Racing closed the GT podium in third with their Corvette.
It was during this race that both Aston Martin and Lotus made debuts at the Rolex Series. Drivers Brandon Davis and Darren Turner finished 10th in GT class in the No. 66 Paypal/HP Aston Martin Vantage for TRG-AMR, while Scott Dollahite and Jeff Mosing took third in GX in the No. 11 Lotus Evora.
The next race- the season finale will be at Lime Rock on September 28!