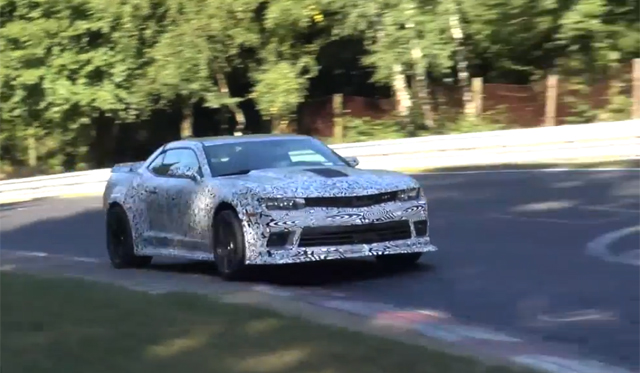 Chevrolet was recently spotted testing at the infamous Nurburgring in two of its most-performance cars currently for sale. These are the 2014 Chevrolet Corvette Stingray and of course, the potent 2014 Chevrolet Camaro Z/28.
Monsterchannel24 on YouTube put together the following video of the pair in the midst of testing and while the Chevrolet Corvette Stingray C7 and Camaro Z/28 models are far from the fastest or most powerful cars ever produced by Chevrolet, they are indeed two of the most potent modern-day Chevrolet's soon to hit the market.
[youtube]http://www.youtube.com/watch?v=lHeVxzZidco[/youtube]
To start with, the 2014 Chevrolet Corvette Stingray features a new LT1 V8 engine delivering a total of 460hp and 455lb-ft of torque. By comparison, the 2014 Chevrolet Camaro Z/28 features a similar 7.0-liter LS7 V8 engine as present in the previous-generation Chevrolet Corvette Z06 with it delivering 500hp and 470lb-ft of torque. Consequently, the car is three seconds faster around GM's test track than the Camaro ZL1.
In order to restrain this power and help bring the car to a safe stop, Chevrolet then went about tinkering with the brakes and have fitted it with brand new Brembo carbon-ceramic brake discs capable of generating 1.5g of deceleration.
In order to reduce weight on the car further, Chevrolet went about thinning the rear window to only 3.2mm from 3.5mm, and removed the HID headlights and fog lights. As a result of these changes, the 2014 Chevrolet Corvette Z/28 weighs a substantial 300 pounds less than the ZL1 and an impressive 100 pounds less than the performance-oriented Camaro SS variant.