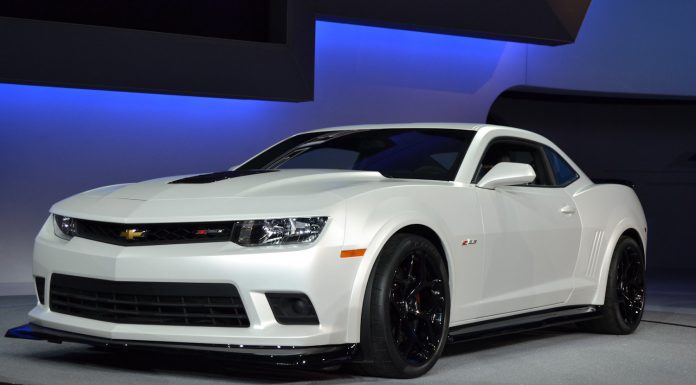 In conjunction with the release of the updated and facelifted 2014 Chevrolet Camaro released at the New York Auto Show 2013, Chevrolet has also taken the wraps off the 2014 Chevrolet Camaro Z/28 and GTspirit was on hand to see it live.
The most notable changes featured on the 2014 Chevrolet Camaro Z/28 when compared to the base model is its aggressive aerodynamic package which incorporates a new front splitter, larger flared wheel arches and larger rocker panels.
These changes are then topped off with a small rear lip spoiler and rear diffuser.
In order to reduce weight on the car further, Chevrolet went about thinning the rear window to only 3.2mm from 3.5mm, and removed the HID headlights and fog lights. As a result of these changes, the 2014 Chevrolet Corvette Z/28 weighs a substantial 300 pounds less than the ZL1 and an impressive 100 pounds less than the performance-oriented Camaro SS variant.
Under the hood, the 2014 Chevrolet Camaro Z/28 features a similar 7.0-liter LS7 V8 engine as present in the previous-generation Chevrolet Corvette Z06 with it delivering 500hp and 470lb-ft of torque. Consequently, the car is three seconds faster around GM's test track than the Camaro ZL1.
In order to restrain this power and help bring the car to a safe stop, Chevrolet then went about tinkering with the brakes and have fitted it with brand new Brembo carbon-ceramic brake discs capable of generating 1.5g of deceleration.
When speaking about the car, the Camaro's chief engineer Al Oppenheiser said "We set out to make the fastest road-racing Camaro possible that was still street-legal.
"While the Camaro ZL1 offers exceptional performance on the street, the drag strip, and the track, the Z/28 is entirely focused on the track performance. The Z/28 will be too track-focused for most drivers, but offers road-racers one of the most capable track cars ever offered from an automaker."