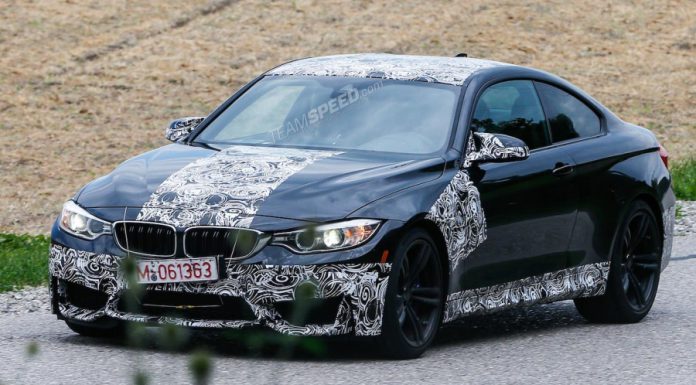 The 2014 BMW M4 has been spotted wearing the least amount of camouflage thus far, finally giving us an almost complete look at how the brand new M-powered coupe will look and as expected, it's quite stunning.
The following 2014 BMW M4 prototype was finished in a shade of black and only features camouflage on the front and rear bumpers, side skirts, mirrors, roof and down the middle of the hood obviously hiding the prominent hood scoop. This is in stark contrast to previous M4 prototypes which featured camouflage head to toe.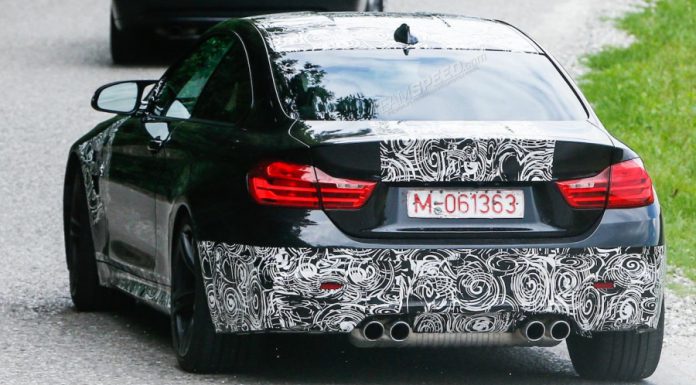 According to recent reports, the BMW M4 Coupe Concept could debut in close to production ready form at the upcoming Pebble Beach Concours d'Elegance (Part of our Monterey Car Week 2013 coverage) in California this week. BMW has already confirmed that both the M4 Coupe and M3 Saloon will make their respective debuts at the Detroit Motor Show 2014 in January. They will share the spotlight with the debut of the new 2-series coupe as well as the convertible version of the 4-series.
Speaking to AutoExpress, BMW Senior Vice President Brand and Product Strategies Klaus Froehlich mentioned that the M4 uses 80 percent different parts as compared to any other model in BMWs range.
[Via Teamspeed]