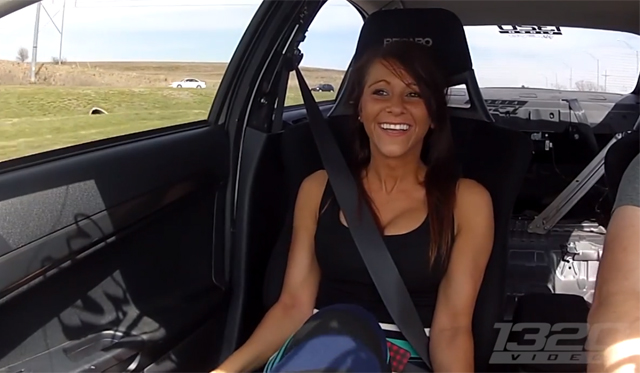 Another video showcasing an awesome ride-along in the insane black 900hp Mitsubishi Lancer Evolution has been released with this latest clip once again featuring a hot female in the passenger seat! Unfortunately, this latest video doesn't feature the female in a skimpy bra or bikini, but we'll never get sick of the insane acceleration capabilities of this Japanese performance machine.
Japanese sports cars have always been a favourite among tuners all around the world, as they're often very easy to tune and can easily handle being uprated to well over twice their regular horsepower and torque outputs. While the Mitsubishi Lancer Evolution may not be quite as popular to tune as the Toyota Supra or Nissan Skyline, the Evolution is more than capable of beating the best from Lamborghini and Ferrari despite only being fitted with a tiny 2.0-liter four-cylinder engine.
And thanks to the tuning specialists over at 3D Motorsports, DKT Performance and Daves Crankshaft we now have a record-breaking Evolution X on our hands which managed to recently pump out an incredible 908hp at all-four wheels while recently being dyno tested in the U.S.
If the team is to be believed, and we think they most certainly are, this makes this Mitsubishi Evolution X no less than 92awhp more powerful than the previous record holding Evo X!
Keep in mind that GTspirit does not endorse such driving on public roads.