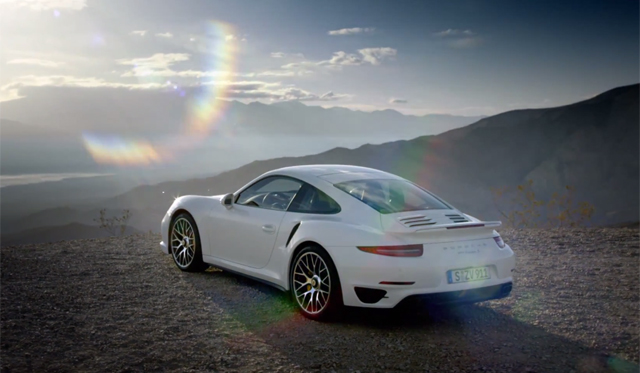 Porsche has just released a new trailer for the 2014 Porsche 911 Turbo titled 'Breaking new Ground'. As its name suggests, the advertisement looks at how man's discoveries are coming to an end but despite that, Porsche still pushes itself to become a pioneer in the automotive industry.
The advertisement then mentions that someone has to lead the pack, and that's of course the 2014 Porsche 911 Turbo. The rather inspirational clip includes some stunning audio, both of the 2014 Porsche 911 Turbo itself as well as some thrilling background music highlighting the new Turbo and how it truly breaks new ground and could now be considered as a supercar benchmark.
As a reminder, the 2014 Porsche 911 Turbo as well as the Turbo S are powered by a twin-turbo 3.8 liter, direct-injection and 6-cylinder boxer engine discharging 520hp in the turbo model and 560hp in the Turbo S model. In both cases, that powertrain is the mated to a 7-speed dual-clutch PDK transmission completed with a stop-start system.
Porsche developed a new version of their PTM-Porsche Traction Management fitted to the four wheel drive system of these Turbo models meaning the Turbo model now sprints from 0-100km/h in just 3.2 seconds. . The new Turbo S does the same in just 3.1 seconds and a top speed of 318km/h.