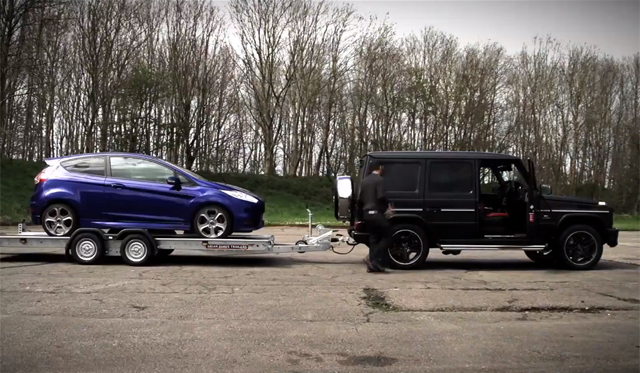 In something a little bit different from Chris Harris, the British journo pitted the Ford Fiesta ST against the mighty Mercedes-Benz G63 AMG. However, this isn't your simply car vs car video, and instead revolves around whether or not the Mercedes-Benz G63 AMG can accelerate to 100km/h and 160km/h while towing the Fiesta ST faster than the Ford Fiesta ST can under its own power.
Powering the Ford Fiesta ST is a tiny 1.6-liter turbocharged four-cylinder engine developing an impressive 197hp at 6,000rpm and 214lb-ft of torque at 3,500rpm. However, that pales in comparison to the Mercedes-Benz G63 AMG. The G-Wagon features a massive twin-turbocharged 5.5-liter V8 engine producing 536hp and 561lb-ft of torque mated to a seven-speed wet-clutch transmission. Consequently, the Mercedes-Benz G63 AMG can hit 62mph in 5 seconds flat.
But just how much slower will it be towing the Ford Fiesta ST and a trailer weighing around two tonnes? Well, see the video above and keep in mind that the Mercedes-Benz G65 AMG with 612hp and 738lb-ft of torque, would have performed even better!