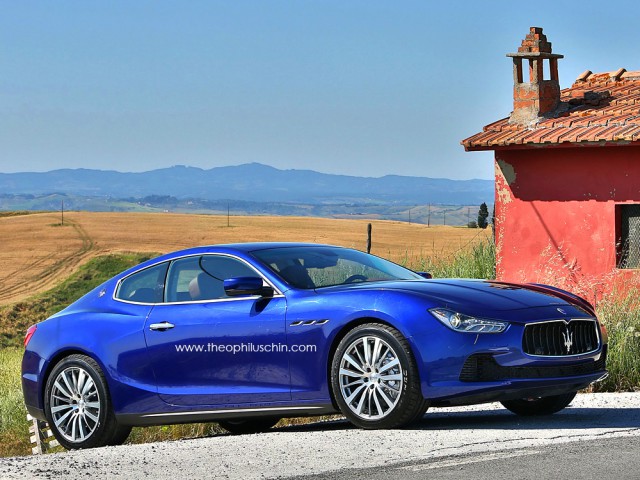 While the recently revealed 2014 Maserati Ghibli does indeed celebrate the original Maserati Ghibli from the late 1960's and the early 1970's, don't be mistaken into thinking the new Ghibli is in anyway a reinterpretation of the original. As a matter of fact, the original Maserati Ghibli was a sleek, two door sports car while the 2014 Maserati Ghibli is a heavy, luxurious, four-door sedan.
However, if Maserati had decided to follow in the footsteps of the original, just what would a 2013 Maserati Ghibli Coupe have looked like? Well, thanks to the latest rendering from artist Theophilus Chin we get a glimpse into how such a car could have turned out! Chin's creation is obviously based on the regular 2013 Maserati Ghibli sedan, but features two fewer doors as well as a different rear-end incorporating different taillights. From the front, the car looks identical to the sedan which certainly isn't a bad thing.
When it first hits the market, the sedan 2013 Maserati Ghibli will be available with two 3.0-liter V6 engines. The first will actually be Maserati's first ever diesel powered production unit, while the latter will be a more conventional petrol powered unit.
No official horsepower or torque outputs for those engines have been released just yet, but it's expected the petrol V6 will deliver upwards of 410hp while the diesel should produce around 330hp. A V8 engine is then expected to complete the Maserati Ghibli line-up but no official word for such an engine has been given.
Either way, all engines will be mated to ZF eight-speed automatic transmissions with paddle shifters. Although the car won't be available with a traditional manual, Maserati will thankfully offer the Maserati Ghibli in both all-wheel drive and rear-wheel drive configurations.
[Via Theophilus Chin]