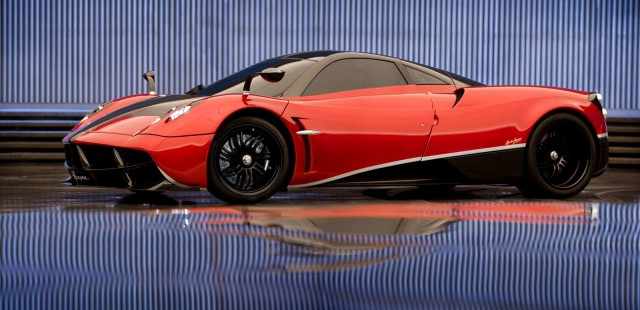 While Transformers 4 may be receiving a largely new cast compared to the previous three films, it's set to step up its car game massively with a Bugatti Veyron Grand Sport Vitesse, 2014 Chevrolet Corvette Stingray, 1967 Chevrolet Camaro and a Lamborghini Aventador all being confirmed as featuring. Well, the latest addition to the Transformers 4 fleet has just been announced as a red Pagani Huayra.
Transformer 4 director Michael Bay revealed the news on his personal website and released the following image of this unique Pagani Huayra. While it's yet to be revealed if the Pagani Huayra will act as an autobot or a decepticon, it'll inevitably feature prominently in the upcoming action-flick set for a release on July 27, 2014.
Over the past few weeks, Michael Bay has been slowly revealing more and more cars to feature in Transformer 4 on his personal website meaning a few more surprises are likely to be revealed in the coming weeks.
Powering the Pagani Huayra is a brand new, twin-turbocharged 6.0-liter AMG-sourced V12 engine developing an impressive 720hp and 1,000Nm of torque. All this power is then sent through the rear wheels via a transverse sequential seven-speed gearbox with a dual plate clutch in favor over a dual-clutch system which is uniquely positioned low in the center of the car to reduce centre of gravity. Alone, this saves 70kg of weight.
[Via Michael Bay, Image Sources: Daily Mail, TFW2005, Transformers Live Action]