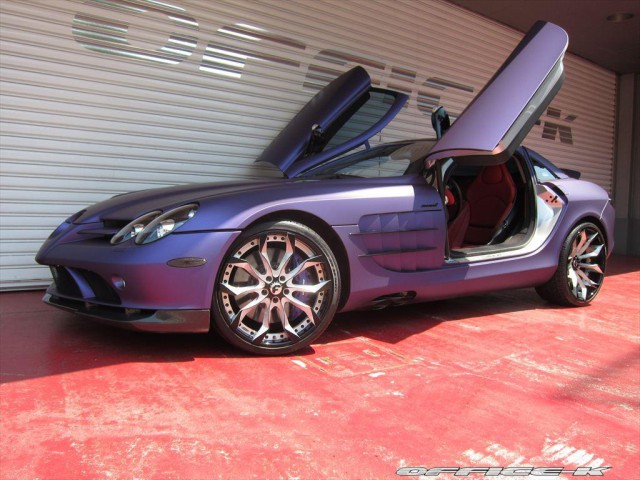 Japanese tuning shop Office-K has been revealing project after project this year and one of their latest ones in this purple Mercedes SLR McLaren. A color better left to supercars, the tuner managed to give the Anglo-German supercar an extreme new look.
Firstly, and to match the purple scheme, they had its McLaren calipers painted in a similar color. Then came the custom Forgiato Wheels F2.01 in 20 and 21 inches. These wheels have a custom finish meant to complement its various body accents. It is also fitted with a Quick Silver exhaust system to enhance airflow and give a sportier noise while on the go.
The purple scheme that you see is a vinyl wrap on the entire body. Add-ons include the Godhand carbon fiber front lip spoiler. Lighting was also tweaked where they installed several LED bulbs-the LED position bulb, license bulb and room bulb. They treated the headlight to an inner paint "722 Style".
Assuming that engine performance was left standard, this car is still a high performer sporting a Mercedes-Benz 5.4 liter supercharged V8 engine. This is good for 615hp at 6500rpm and 575ft-lb of torque at 3250rpm. The 722 variant has 650hp instead.