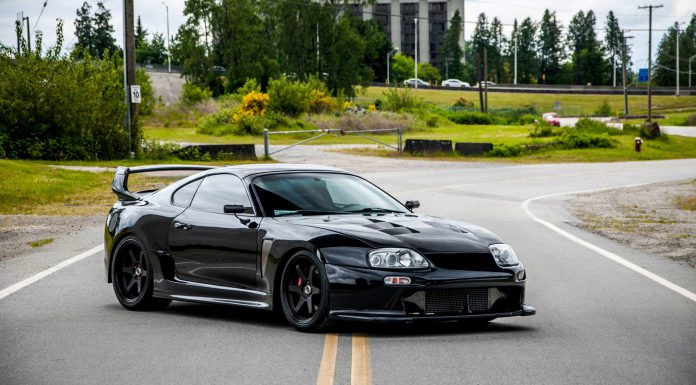 Toyota Supras are not commonplace on the GTspirit frontpage but we do feature some from time to time especially the very powerful ones like that of Jessica Barton. Here is another high horsepower example to drool on. It is a black on black Toyota Supra MY1997 but restored to kick out 1000hp! Again, the resulting photos were done by Dylan King Photography.
Now, if you are a fanatic of import tuning, then you understand that the Supra has quite a large territory. The Japan import scene has grown into almost every nation. Favored cars include the Supra, Evo, Subaru, Nissan GT-R, Silvia, Mazda RX-7/8 among others which may fill an entire list. All these cars have been known to kick some serious power if they fall into the right hands.
This Supra is from Vancouver and the owner made a list of extensive modifications to get enough power to reach the magic 1,000hp figure. His modlist is spectacular as explained below:
Engine
The engine was fitted with a T72 Turbocharger, HKS 272 Cams and custom Intercooler Piping, that is 3 inch piping on the hot side and 4 inch piping on the cold side. It's also fitted with a Veilside Intake Manifold and a HKS T4 Exhaust Manifold. Fuel is served through the AEM Methanol Injection System from the twin in-tank Walbro 255lph fuel pumps. The transmission system uses stage 4 clutch, additional engine details include the JE Pistons and Crower rods.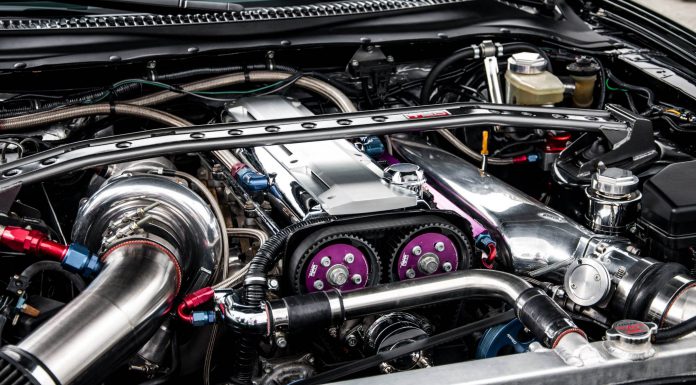 Interior
Like you would expect of any highly modified car, safety measures are heavily utilized in the cabin. These include a custom roll cage behind the Recaro seats fitted with racing seatbelts. The driver enjoys the Momo alcantara steering wheel not to mention the Momo pedals and shift boot. There is a custom short shifter attached to the gearbox. The interior features complete carbon fiber, chrome dash clusters, carbon fiber gauges and Compustar alarm system.
The entertainment was not compromised either, there is a brand new Alpine INA-900BT Stereo System with a backup camera. The sound system features Kicker Comp VR10 x 2 Subs, Kicker 1000 Watt Amplifier, Kicker 500 Watt speaker Amp, Kicker Component and Coaxial Speakers and a 2 Farad Capacitor.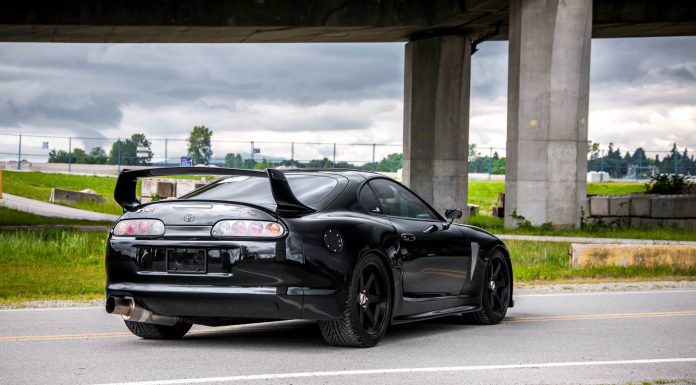 Exterior
This was not compromised either as you can see from the photos. The car was fitted with a TRD widebody kit, TRD spoiler and a custom gun metal gas tank. The exhaust system has HKS 4-inch titanium exhaust while the front features a Seibon carbon fiber hood. There are also APR carbon fiber mirrors, custom carbon fiber roof, tinted rear windows and a Rotora brake kit. The car was set to roll on Volk TE37 wheels wrapped in Michelin Pilot Spot rubber.
The owner has so far detuned the car to 600hp to make it suitable for daily road use.