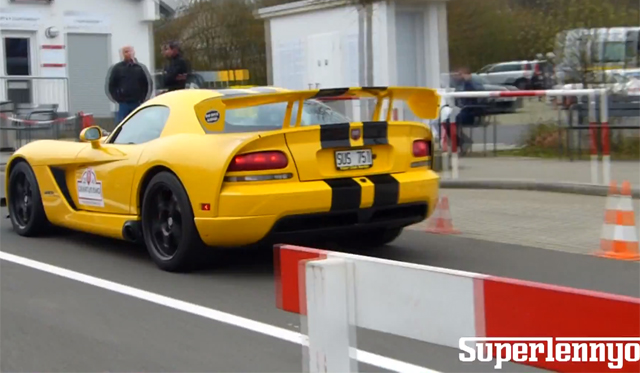 Remember the unique yellow Dodge Viper SRT10 ACR photo which we recently featured as a Photo Of The Day?
Well, a new video has appeared of that very vehicle filmed by Superlennyo while attending a GranTurismo Event at the legendary Nurburgring circuit in the heart of Germany.
While the Dodge Viper SRT10 ACR may seem completely out of its depth at a circuit as famous and difficult to drive as the Nurburgring, it is actually one of the fastest production road-legal cars to have ever lapped the circuit with it completing the circuit in just 7 minutes and 12 seconds.
Making such an impressive time possible is the 8.4-liter V10 engine found in the Dodge Viper SRT10 ACR which produces an impressive 600hp and 560lb-ft of torque. The car is then combined with rear-wheel drive, a manual transmission and a selection of advanced aerodynamics all of which help in creating the car's infamously aggressive behaviour.