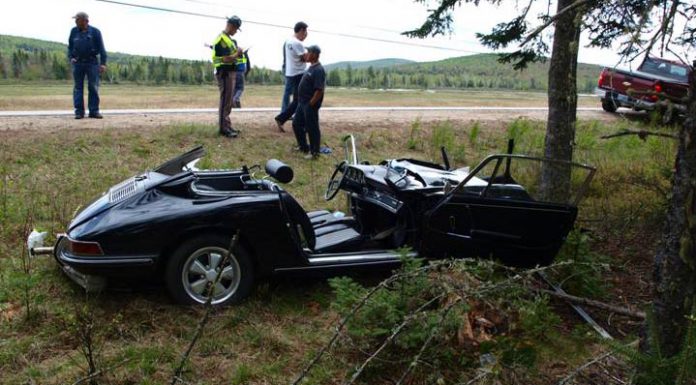 We have yet another crash involving a Porsche 911 to report today, barely a week after reporting the lasy one in Germany. This one is a rare 1967 Porsche 911, the year that Porsche debuted the Targa. If you know your history well around the Targa, then you know that with its distinctive stainless steel roll bar, it made its debut in late 1966 as the world's first ever safe cabriolet.
This crash happened in New Hampshire while a 60-year-old New York man lost control of the Porsche 911 at high speed on Route 16 in Dummer, New Hampshire on Saturday afternoon. Reports say that he was seriously injured but luckily Med-Flight attendants took him to Maine Medical Center where he is reported to be in stable condition.
The 1967 Porsche 911 looks an almost total write-off. Considering that it has no modern safety measures, the driver was lucky to survive. The car slid of the road and hit a tree. Emergency services on scene cut off the roof to take the injured driver out.
[Source: MyFoxBoston]