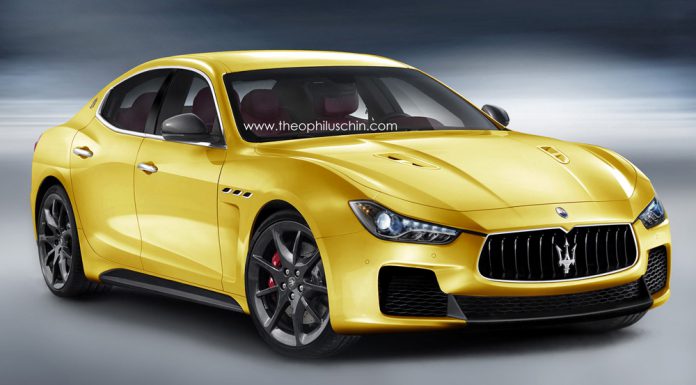 When the 2014 Maserati Ghibli hits the market for the very first time in the coming months, it's expected that it'll only be available with two different 3.0-liter V6 engines, one diesel and one petrol.
The top-of-the-line petrol 3.0-liter V6 engine produces an impressive 410hp but if Maserati really wants to turn the 2014 Maserati Ghibli into a true BMW M5, Jaguar XKR and Mercedes-Benz E63 AMG rival, then a much more powerful V8 will have to be developed and offered with the sub-Quattroporte luxury sedan.
While no official word has been given about whether or not Maserati plans to uprate the Ghibli in the coming months to truly compete with its German and British rivals, Theophilus Chin has created the following rendering of what a possible Maserati Ghibli MC Stradale could look like if it ever hits the market.
The only other car to feature the MC Stradale name in the Maserati line-up is the 2014 Maserati GranTurismo MC Stradale which produces 460hp from its uprated V8 engine. However, if Maserati does want to create a BMW M5 rival, then power of that engine would have to be increased by at least another 100hp as the facelifted 2014 BMW M5 will feature a 4.4-liter twin-turbo V8 engine producing over 560hp.
[Via Theophilus Chin]