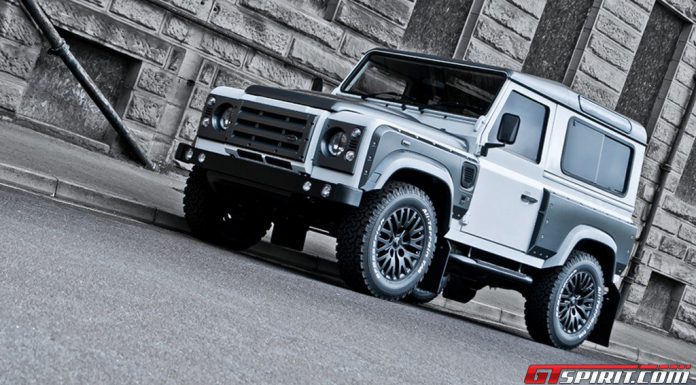 British designer Afzal Kahn is back with a new Land Rover defender, this time a Fuji White Defender. He has in the past few months showed us the Military Edition Defender and the Chelsea Wide Track Edition Defender. This one carries on the quest to place the Land Rover Defender back to where it should be, having been neglected by many tuners who opt for the range Rover instead.
This also is a Chelsea Wide Track edition featuring the Fuji White finishing with matte pearl grey compliments. A quick look at it and you will notice the front and rear wide wings with integrated vents and bolt apertures. The wheels cannot escape your eyes, unmistakably Kahn Design 1948 Defend Alloy Wheels in Satin Black sizing 8×16 inches and wrapped with 235x85x16" tyres.
The package continues to sport the xenon crosshair headlights, bonnet vents with mesh, front grille replacement including headlight surrounds, front bumper including bumper lighting and a front bumper sump guard to complete the front end. There are also front and rear wing mesh inserts, side vents with mesh, exhaust shields, mud flaps, Kahn oval tailgate badge and Chelsea Truck Company spare wheel cover.
The airflow is assisted by the Kahn twin crosshair exhaust system silent enough in its own class. He interior sports front sports GTB racing seats and rear folding seats. The driver will enjoy the instrument binnacle in grey alcantara with red and silver stitching while the center dashboard is in leather and alcantara with Harris Tweed Inserts and two tone contrast stitching. You also find the tron ring lighting, door panel inserts and trims in black quilted leather and grey alcantara with silver stitching.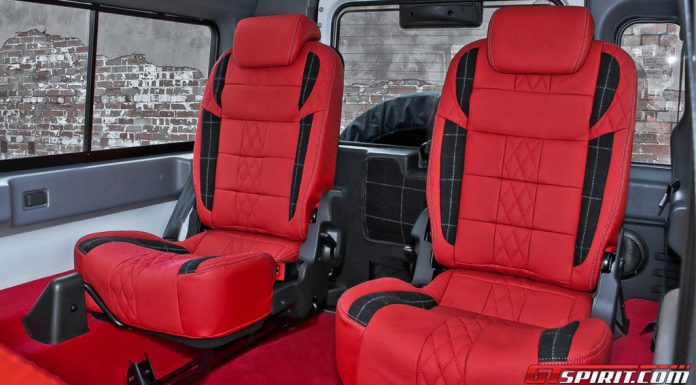 The Churchill time clock facia insert is finished in red, while the steering wheels sports billet machined leather. Machined aluminum was utilized on the vented foot pedals. Other add-ons include the front and rear cabin floor lights, Kahn fire extinguisher, and Kahn speedo and rev counter facia in red.