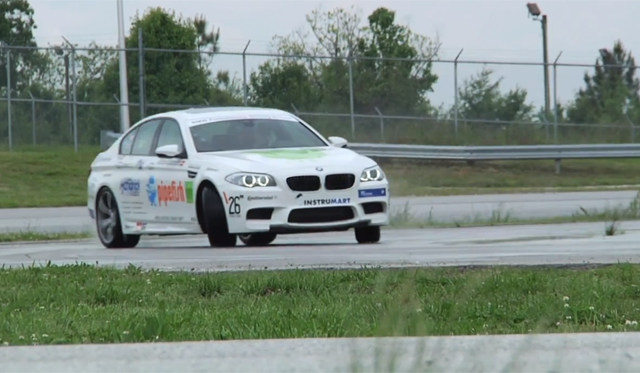 Traditional Japanese drifting fans may hate the fact that BMW recently claimed the Guinness World Record for the longest drift because simply sliding around a big circle doesn't specifically constitute a properly performed drift.
A real drift obviously involves losing traction at the rear of the car but also involves entering and exiting a corner or a number of corners, and simply sliding around a wet circle doesn't meet that criteria.
Nevertheless, BMW's recent achievement set with driver Jeff Schwartz behind the wheel of a 2013 BMW M5 resulted in a new world record with the car covering 51.278 miles completely sideways after completing 322.5 laps around a 841 foot in circumference circle.
The brand new Guinness Book of World Records record was set at the BMW Performance Center near Greenville, South Carolina in the U.S. and on top of the obvious insane concentration which is needed to perform such a stunt, fitting the car with tires that can survive the toll of 51 miles sideways is a feat itself.
It's been a few days since the world record took place and BMW has finally released the following video showcasing the record. While the video doesn't capture all 322.5 laps, it's certainly worth a watch!