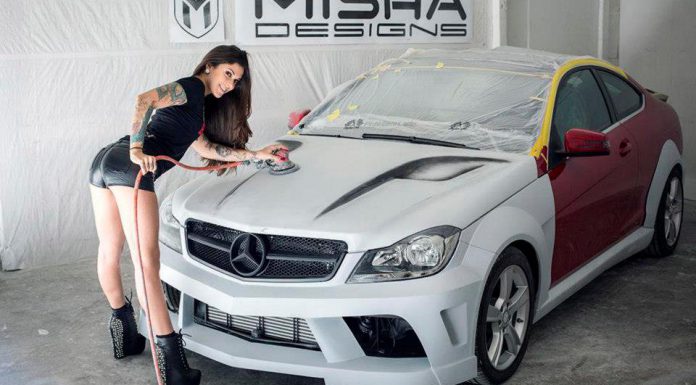 Cars and Girls-these two have proven to be miscible over time not only with modern cars but from the vintage era too and are now moving largely to the world's famous and luxurious rallies. That brings us to the rally in topic, the goldRush Rally V. Having told you a lot about it already, including the routes and some participating cars such as the Taylor Lynn McLaren 12C, it's time we showed you the girls and on top of the list is goldRush Rally Spokesmodel- Kayla-Jane Danger.
Kayla-Jane Danger is not only the official spokesmodel for the goldRush Rally but this year she will also be participating in her brand new Mercedes-Benz C250 fitted with a Misha Design aerodynamic kit. It has Misha Wheels and its tuner RBD from Los Angeles who did all the painstaking work of assembling, molding and painting.
Excited Kayla had this to say;
I've been ramping up for the rally for almost a year and can't wait to be part of the pack in my newly pimped out ride—I picked it up in L.A. last week and got to push it to its limits on my drive back to Vegas. I've been a passenger on multiple rallies, but doing the driving myself will be adventurous and exciting. I can't wait to see what extreme events the rally comes up with this year for the drivers and fans!
So, who is Kayla Jane Danger? Kayla is a model, writer and in her decade long career, she has gone from a go-go dancer, burlesque performer, fashion design and illustration student to being the Queen of Lesbian Foot Worship and soft core sensual scenes. In her writing, Kayla wrote a book titled "Pleasure or Pain" available as an eBook through Kindle on Amazon here. The book is based on Zalman King's film, and the movie which she will be starring as Isabel will hit the screens in January. Kayla has appeared in more than 50 music videos among other appearances.
The goldRush Rally 2013 is only a few weeks away, set to begin on June 8 all the way to June 15 after passing through San Francisco, Los Angeles, Las Vegas x 2, Dallas, Memphis, St Louis and Chicago.
All requests for interviews, appearances, magazine placement and general media inquiries about Kayla Jane Danger and KJD Media should be directed to Erika Icon of The Rub PR at [email protected].