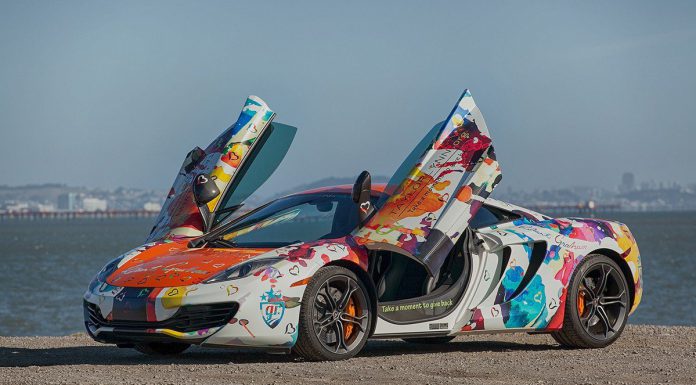 The goldRush Rally 2013 is only a few weeks away, set to begin on June 8 all the way to June 15 after passing through San Francisco, Los Angeles, Las Vegas x 2, Dallas, Memphis, St Louis and Chicago. One of the cars that will be taking part in this year's edition as it did in the 2012 rally, is this McLaren MP4-12C by Taylor Lynn Foundation. Over time, they have used this Rally positively at the same time enjoying the fun bit of it.
This foundation is focused on enhancing the lives of children as well as inspiring individuals to "take a moment to give back." What they do is provide microGRANTs to children ranging from $100 to $1,000, by doing that they allow these children to participate in events and activities which they would not have access to otherwise.
The sponsors buy a heart which is then placed on the car, in the goldRush Rally 2012 they gathered almost 300 hearts covering their car and that meant an amount close to $30,000 for kids in need. The new livery that you see on the car, set for this year's rally was inspired by their new sponsor-clothier Robert Graham known worldwide for his skills in clothing. This particular livery is borrowed from one of his limited edition woven shirts; likewise, the hearts are cut from this colorful design. The cost of each heart is $100; you can purchase a heart here.
On the eve of the Rally, that is June 7, the foundation will hold a party at Wingtip in San Francisco, it will feature vibrant foods and drinks and the backdrop of all goldRush Rally cars including a McLaren F1. Tickets to the events can be bought through here!
[Photo Credits: Itz|Kirb Photography]