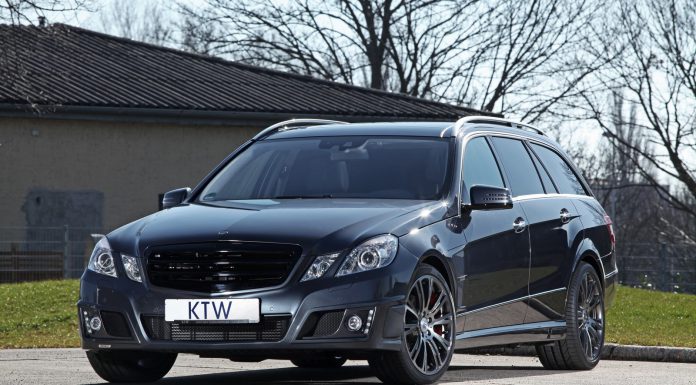 KTW Tuning is back with another build this time a Mercedes-Benz E350 CDI wagon fitted with a Brabus ECO PowerXtra D65 perfromance kit that increases its power to 315hp. The tuner recently showed us a Mercedes-Benz C63 AMG. The Hildesheim-based tuner went for a Brabus overhaul on the car as seen in the various parts that replaced the stock items.
The engine bonnet features the Brabus emblem while a Brabus front skirt strikes you from the front of the car and a front grille from KTW Tuning. The door sills are from Bottrop and they have a "Double B" logo, it feature Brabus sport fenders which are not always put on diesel cars but Brabus and KTW Tuning managed to work it out. Other details include the Brabus door sills, window foliation, aluminum pedal pads and door-lock pins.
The tuner then set this build on monobloc R-Rims from Brabus sizing 8.5x19H2 ET50 in the front axle and 9.5x19H2 ET50 in the rear axle, these wheels were then wrapped with Pirelli tires sizing 245/35R19 and 285/30R19 respectively. The air flow was enhanced through the use of the S 1211 sport exhaust with cutout in the left-right model. The price for this package by KTW Tuning is at 18,999 Euros inclusive of VAT.