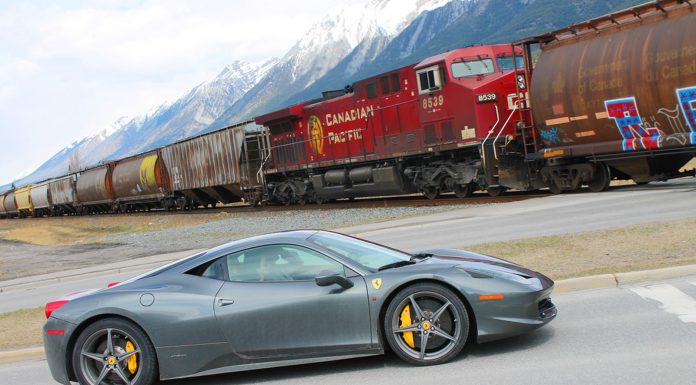 Our Photo of the Day today comes from Austin Morland who has submitted this stunning Ferrari 458 Italia with a beautiful background, a colonial train coach which requires more than poetry to create a connection between the two objects-the Ferrari and the train. Since the coach reads Canadian, we could imagine these are the Canadian Rockies in the furthest background.
This particular Ferrari 458 Italia is finished in a charcoal grey color with yellow accents sporting on the calipers while the wheels are finished in a complementary nature.
Just a reminder which I'm sure most of you are familiar with, the Ferrari 458 Italia traces its roots from the Ferrari F430 which it succeeded, showing up for the first time at the Frankfurt Motor Show 2009– the motor show that saw debuts of some of the greatest cars we still have on our roads including the Bentley Mulsanne and the Lamborghini Reventon Roadster.
The Ferrari 458 features among many other goodies a 4.5 liter naturally aspirated V8 engine with 562 HP and 325km/h top speed with a 0-100km/h in 3.4 seconds thanks to the dual-clutch 7-speed gearbox. The price for one these days range around $229,825.