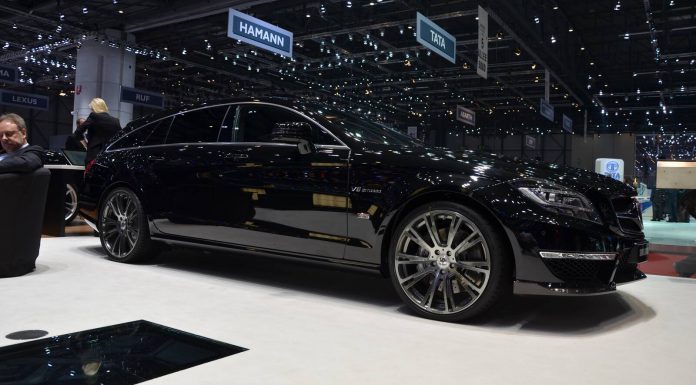 The Brabus B63S-730 has debuted at the Geneva Motor Show 2013. Based on the Mercedes-Benz CLS 63 AMG, the Brabus B63S-730 features a range of aerodynamic, cosmetic and performance upgrades. Brabus at its finest! We sent a photographer over to take a look.
The Brabus B63S-730 retains the Mercedes-Benz CLS 63 AMG's 5.5-liter eight-cylinder Biturbo engine. Brabus fit two special Brabus turbochargers with larger compressors and higher boost. Added to this, is the low-temperature water-to-air intercooler for the charge-air cooling system and a new ECU tune.
The Brabus B63S-730 has a maximum power output of 730hp produced at 5,300rpm. Torque is electronically limited at 1,065Nm between 1,750 and 5,000rpm. The AMG Speedshift Plus 7G-Tronic transmission allows for a 3.8 second zero to 100km/h and 10.8 seconds for the sprint to 200 km/h.
The aerodynamic enhancements include a front fascia, designed and tested in a wind tunnel to reduce lift on the front axle. The view from the side is redefined with sportily styled fender attachments with backlit Brabus logo. These components are manufactured from especially light yet high-strength genuine carbon fibers for a full-blooded racing look, and are available with a matt or high- gloss surface finish.

The enhancements are available for both saloon and Shooting Brake Mercedes-Benz CLS 63 AMG. For more details on the Brabus B63S-730, click through the embedded link.