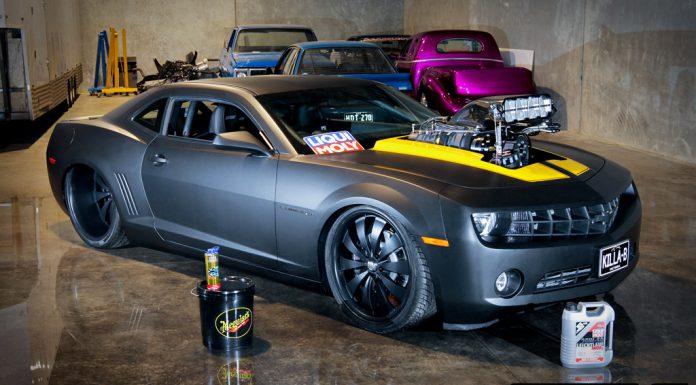 This is one of the modern muscle cars; a 2010 Chevrolet Camaro fitted with a huge supercharger, reminding us of the 60s and 70s muscle cars that still rock these types of superchargers on the drag strips. This particular one is from Australia owned by Steve Nogas and from what you can see; his character can be derived from his massively tuned Camaro, he named it Killa-B!
So, apart from the beasty look, what is the story behind this Killa-B Camaro? Well, its fitted with a Merlin III 632ci block; custom cast alloy inlet manifold with a Littlefield supercharger (16-7-1). There is JBR carbon fiber injector hat, Pro-Filer cylinder heads, custom roller camshaft and Crower Hippo lifters. It also has JE pistons, Peterson 5 Stage oil pump, a custom D&D triple flow alloy radiator and a four-into-one (2.5-inch primaries) exhaust not to mention the MSD Pro Mag 12 ignition.
That was the engine; it's mated to a Dedenbear two-speed Powerglide gearbox with Street Car Fabrications differential, one-piece chrome moly tail shaft and TCE 2000rpm stall converter. The car uses AccuAir self-leveling airbag suspension helped in by MacPherson struts in the front, four-bar suspension in the rear and R&P power steering.
The interior features a re-trimmed in buffalo hide leather and tailor-fitted black carpet. The factory seats are remoulded, it has a custom leather-wrapped steering wheel, full roll cage, B&M Pro Bandit shifter and Simpson four-point harness.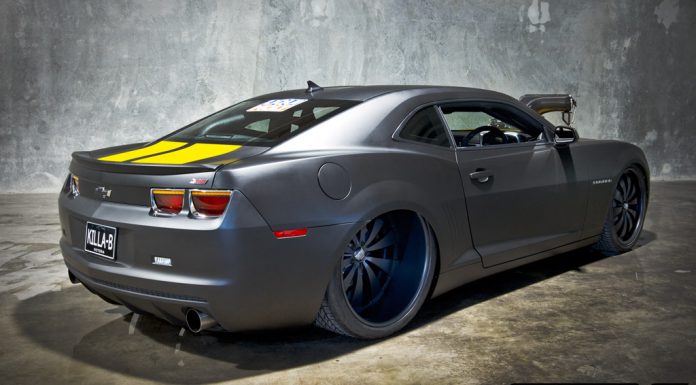 The car uses the Boyd Coddington Spectrum wheels sizing 22×8.5-inch front and 24×14-inch rear; they are wrapped with Hankook Ventus tires sizing 265/35/22 front and Pirelli P Zero tires sizing 405/25/24 in the rear. The beautiful paint job you see is a matte black 3M Designer Wraps 1080 Series.