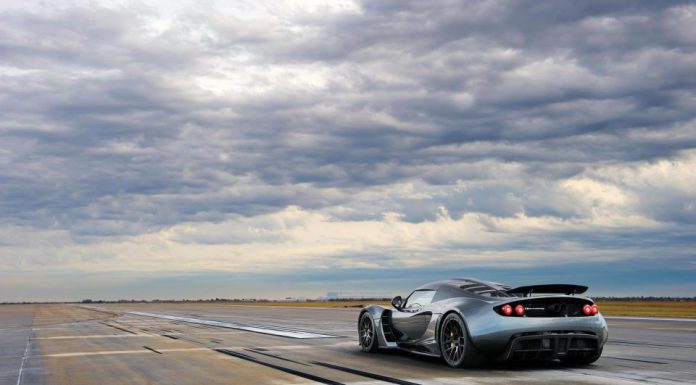 Its official, the Hennessey Venom GT is the quickest production car 0-300km/h. We now have a video to back up that claim, not from DRIVE as previously promised, however this one has come from Hennessey themselves!
On January 10, 2013 John Kiewicz drove the Hennessey Venom GT on two runs, at a 13.63 seconds average. That comfortably beats the previous record held by the Koenigsegg Agera R at 14.53! The record attempt was made at Ellington Airport in Texas, USA.
The Venom GT that set the record is powered by a twin turbocharged Chevrolet LS-series aluminum V8 producing 1,200hp and 1,135lb-ft torque mated to a six-speed Ricardo manual transaxle (the same as found in the Ford GT). Boasting a dry weight of just 2,548lbs and a curb weight of 2,681lbs with a full tank of fuel, the car delivers a superb power-to-weight ratio.
Despite the brilliant news, Hennessey are already looking forward to the next variant of the Venom GT; the Hennessey Venom GT2. This car will feature a new door design with dihedral hinges and increased headroom with a double bubble roof. The engine will be upgraded to a 7.0 liter twin turbo V8 producing over 1,500hp on E85 pump fuel. A new seven-speed paddle shift transmission or the six-speed Ricardo manual transaxle will be available.
The GT2 will also get a carbon fiber body, which is wind tunnel tested. Other improvements include new side mirrors and roof and front airdams. The body still has an active rear wing to ensure enough down force on the rear wheel drive platform. The first Venom GT2 will debut in late 2013. Production will be limited to seven vehicles at a price of $1.25 million.