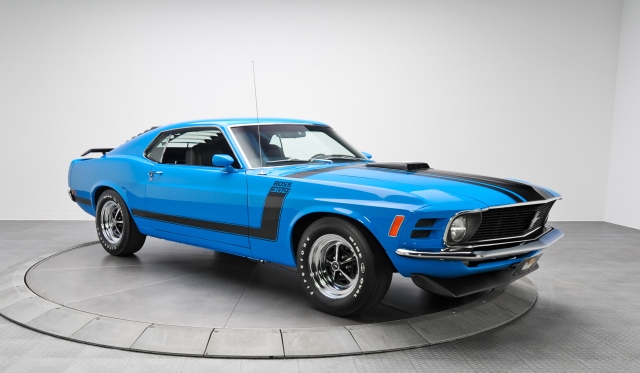 The 1970 Ford Mustang 302 Boss is definitely a favorite among Mustang fans. It was top-of-the-range in its time. In 1970 it cost $3,720 for a brand new 302 Boss. Restoration experts like Daniel's Hot Rods & Body Shop in Jarrettsville realized that this would soon be a smart purchase for the coming decades. With 1970 Mustang 302 Boss' trading for over $80,000 with some hitting the 7 figure mark.
According to Kevin Marti of Marti Auto Works, this particular 1970 Boss 302 was bolted together at Fords Dearborn, Michigan assembly plant in September of 1969. It was the 7340th example, delivered to Newby Ford in Henrietta, Texas. It features a Mustang Sportsroof, a four-valve Boss engine, a G-302 cubic inch engine, a four-speed wide ratio manual transmission and a 3.50 standard axle.
The company says that the Mustang wears rust-free body panels everywhere except for its front fenders. They spent $1,800 to roll new front fenders with small repairs to the doors, hood and trunk. Next followed a thorough block sanding and a super slick coat of correct Grabber Blue paint. This was topped with a trademark flat black rear decklid and spoiler, and detailed with a full set of expertly applied Boss side stripes.
Inside the car, a great looking black vinyl interior combines original pieces with restoration pieces to provide a comfortable, well-designed driving environment. The black vinyl seats are new additions that took the place of correct white Corinthian seats which RK Motors will gladly replace if the new owner desires an authentic look. The dash is loaded with original gauges, which include a factory tachometer, and features wood grain trim that's as vivid and bright as the day the car rolled out of its Texas showroom.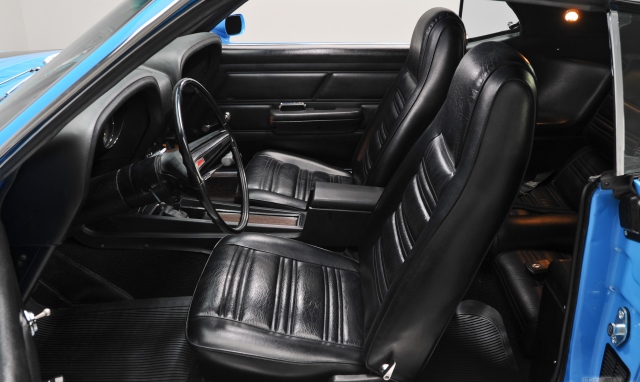 On popping the hood you find a complete rebuild to factory specifications with a numbers matching small block 302 Winsor that utilizes a heavy duty block design, original, large port, large valve, free flowing Cleveland heads, a race prepped crank, a solid lifter cam, heavy duty connecting rods, forged pistons and an aluminum intake to create 290 SCCA winning horsepower. At the top of the motor, a Ford Blue ram air induction system feeds a correct Holley 4-barrel carburetor which sits between finned aluminum valve covers.
The powerhouse has more. In front of that carburetor, a Pertronix Flame Thrower coil sparks a Pertronix Flame Thrower distributor to send power through correct Autolite Radio Resistance plug wires. At the sides of the motor, restored cast iron manifolds send spent gases into a true dual exhaust system. In front of the motor, a correct satin black radiator sends water through correct hoses and reproduction clamps.
This car is up for sale at RK Motors for $89,000