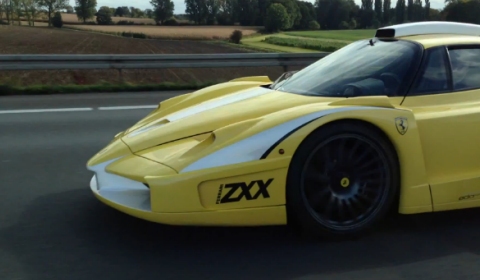 This is the first video of the Edo Competition Ferrari ZXX. The extremely loud Enzo one-off was filmed on the German Autobahn, while being driven by an Edo Competition employee. The 950hp beast was personally build for Zahir Rana, the owner of ZR Exotics.
For those that don't remember, it's a rebuilt Enzo that crashed into a saltwater lake back in 2011. Edo Competition received the car immediately after the accident happened in Canada and they have been working on it ever since. Edo Competition initially carried out all the necessary work, removing the salt water and all the damaged parts, leaving just the bare basics of the vehicle.
The Enzo had previously been kitted out with a wide range of upgrades. The new build retains many of the same styling modifications including the FXX-style rear spoiler, modified exhaust exits, a new rear skirt and a new set of LED's at the rear. Added to this, the ZXX upgrades give a new front nose, side air vents, LED front lights and a bespoke interior at the very least.