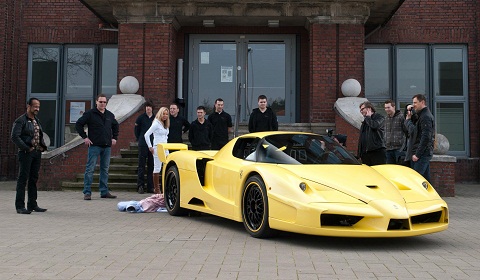 Zahir Rana, owner of the infamous Edo Competition Ferrari Enzo XX Evolution that took a salt-water dip last year, has finalised the specifications of the repaired car once again. Edo Competition presented the Enzo outside their Ahlen-based workshop after 6 months of work ranging from repairs to extra tuning work. Rana flew in from Calgary to decide on the final modifications.
Just recap the story, the Ferrari Enzo had been taking part in the Targa Newfoundland 2011 rally. The rally is an annual 2,200 kilometer event taking place on Canada's Newfoundland Island. The driver, Zahir Rana and his co-pilot, Roland Linder, survived a dip into the Atlantic Ocean after hitting a bump on gravel. The car suffered severe water damage a cracked headlight and a few other minor issues.
Immediately following this, the Ferrari was shipped to Edo Competition and arrived at the end of September last year. Edo Competition initially carried out all the necessary work, removing the salt water and all the damaged parts, leaving just the bare basics of the vehicle. At this point Rana decided to have the car upgraded a little with a specification of 950 hp being the decided figure.
Edo Competition achieved this, along with extensive modifications to the original Ferrari Enzo bodywork. The result is clear to see from the photos, despite the unfinished state of the car. Rana will next be reunited with the Ferrari Enzo XX Evolution when Edo Competition takes it to the ATP test center in Papenburg for top speed testing!