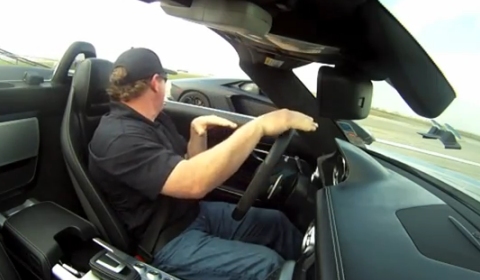 Hennessey Performance released this video of an one-mile drag race between a Matt Black Lamborghini Aventador and a Mercedes-Benz SLS AMG Roadster. Both cars are factory stock, which means it is 700hp versus 563hp.
Just a small recap, the Aventador is powered by a 6.5 liter V12 with an output of 700hp and 690Nm of torque. The cars weighs just 1,575 kilograms which gives it a power to weight ratio of 2.25kg/hp or 4.96lb/hp. The Lamborghini Aventador accelerates from 0 to 100km/h in just 2.9 seconds and the top speed is 350km/h.
The 6.2 liter V8 in the Mercedes-Benz provides 563 horsepower and 650Nm. Acceleration from zero to 100km/h takes 3.8 seconds, the top speed is electronically limited to 317km/h. Power is transferred to the rear wheels via a seven-speed dual-clutch transmission.